What is Indus Tarbiyat?
An initiative by Indus Hospital & Health Network designed to spread the values of sharing and helping others amongst children from a very early age.
The Vision
We live in a fast paced world, where technology and other worldly activities prey on our children's innocent young minds, consuming their attention completely. It is time to engage their attention towards meaningful ventures.
Indus Tarbiyat, aims to inculcate sound values in children that enable them to become responsible, conscientious, compassionate and giving citizens of this world by encouraging them to take up the responsibility of helping to solve some of the issues that we face as a society and to share their blessings with those that are not as fortunate as themselves to help make this world a better place.
We believe the children of Pakistan can make an impact on the world through little acts of kindness.
Our Journey So Far
So far 3000 Children have become part of the Tarbiyat Program and many more are being inducted through several activations. So far we have held the following activities:
Starting with a successful pilot launch of IT at Bacha Party in January'21
A week long kiosk set up to formalize partnership with Dolmen Mall Clifton in February'21 distributing a total of 1000 Tarbiyat boxes.
Becoming a part of Beacon house carnival, teaching the importance of nurturing good values in kids to faculty and parents.
Indus Tarbiyat took on a unique Ramazan spin, teaching children small acts of kindness they can display in everyday life as well as the reward, multiplying their blessings 70 times in the blessed month. The following activities were carried out in Ramazan:
Story telling session at the three-day kiosk at Dolmen Mall Clifton. Following all COVID-19 SOPs, renowned personality Sania Saeed conducted two captivating story telling sessions teaching children the importance of sharing their blessings with others.
Popular Gaming Arcade Sindbad joined hands with Indus Tarbiyat, promoting values of compassion along with providing children with entertainment.
Indus Tarbiyat was part of the Ramazan Camp at 'Buzzing Bees' Café. Representatives of Indus Tarbiyat held a session to enlighten young minds about the power of their generosity.
How can a child share his/her blessings?
SHARING KINDNESS HAS NEVER BEEN EASIER
you can opt for any one of these ways:
Take a money box home
Visit the hospital, spend some time with our children in the Pediatric complex
Share your Eidi
Spend your birthday with a patient
Donate your toys
Clean-up drives
Any other initiative of your choice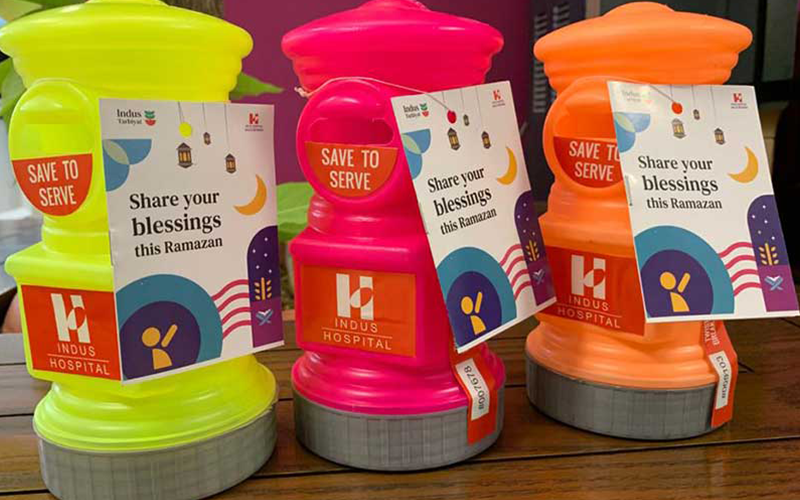 Want to Get a money box for your child?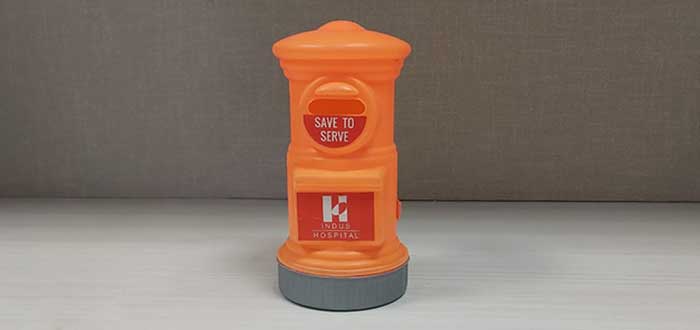 Pick up your money box from Indus Hospital & Health Network collection center nearest to you.
Fill out the donor form at the time of receiving your money box with contact details
Tag 'Indus Hospital & Health Network' and use the #ShareABlessing #IndusTarbiyat on the social media platform you are posting on to spread the message amongst family and friends
Collection Center Addresses:
UNIVERSITY ROAD COLLECTION CENTER
Plot # SB-18, Shop # 4, Ground Floor,
Zenith Heights, Block – 01, Opposite NED University
Gulistan-e-Johar, Karachi
021 3416 5013
DONATION COLLECTION CENTER- BAHADURABAD
M-1 Co-operative Bank Building,
Begum Rabia Siddiqui Road,
Central Commercial Area,
Bahaduraabad, Karachi
03333444953
AYESHA MANZIL COLLECTION CENTER
Shop # H-28, Ground Floor,
Shamim Apartment, Block # 10, F. B. Area
Ayesha Manzil, Karachi
021 3636 1966
021 36348866
NORTH NAZIMABAD COLLECTION CENTER
Rays Centre, Plot # SC-24, Block-N,
North Nazimabad,
Near DC Office.
(021) 37293321
DHA COLLECTION CENTER
Plot # 103-C, Shop # 03, Ground Floor,
Jami Commercial Street # 11, near Dow Lab,
Phase-VII, DHA, Karachi
021 3539 4611