Center
Physical Rehabilitation Center
IHHN in collaboration with the International Committee of the Red Cross and Chal Foundation started a rehabilitation program at the Korangi Campus in 2015 through a Physical Rehabilitation Center. This program aims to empower the physically disabled and allow them to become independent and contributive citizens of society. IHNN now has four Centers in Karachi, Lahore, Muzaffargarh, and Badin. There are four types of services being provided: Physical Therapy, Prosthetic and Orthotic Devices, Psychological Therapy, and Speech and Audiology.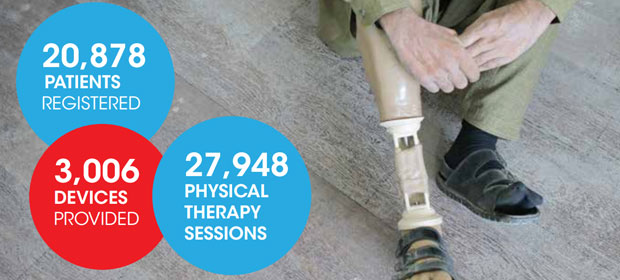 Prosthetic and Orthotic Devices Psychological Therapy
The Prosthetic and Orthotic section provides services and devices to all registered patients. These services are provided to upper and lower limb amputees, polio, cerebral palsy, and stroke patients. Beneficiaries also include children born with congenital disabilities like cerebral palsy and club feet.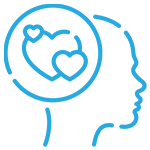 Psychological Therapy
The Physical Rehabilitation Program is holistic and also addresses the mental health challenges of the patients. Those who suffer from amputation often experience a loss in function, self-image, career, and relationships. Thus, Psychological Therapy provides mental health support to the affected patients to enable them to recover fully.

Physical Therapy
The Physical Therapy section focuses on promoting mobility, functional ability, quality of life, and movement potential. Physical therapists work to improve a broad range of physical problems, such as treating neuromuscular, musculoskeletal, cardiovascular, and respiratory systems.

Audiology & Speech Language Therapy
Audiology & Speech Language Therapy services cater to a diverse patient population, i.e., from neonates to old age. The center provides Audiological testing which includes: Neonatal Hearing Screening (Oto-acoustic Emission), Auditory Brainstem Response (ABR) Screening, Pure Tone Audiometry, Tympanometry, Brainstem Evoked Response Audiometry (BERA) diagnostic, Free Field Audiometry, and Speech Audiometry. Speech Language Therapy services include speech, language, listening, and swallowing rehabilitation of patients presenting with hearing impairment, Cochlear implants, voice disorders, swallowing disorders, stuttering, cluttering, speech sound disorder, Post-stroke aphasias, motor speech disorders, Autism, cleft lip and palate, Down's Syndrome and other related disorders. In addition, Cochlear implant mappings and rehabilitative services are also being provided.