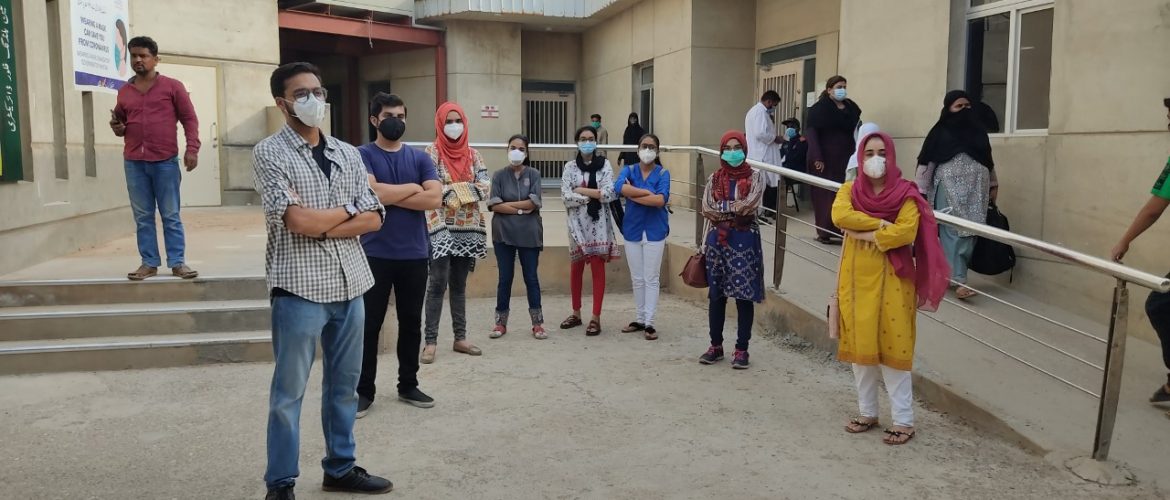 The Youth Ambassadors of The Indus Hospital conducted a hygiene kit drive on August, 19th and 20th, 2020
where they distributed hygiene kits to patients and their attendants at The Indus Hospital. These hygiene kits included sanitizers, polythene gloves, soaps, tissue packs, and instructions on how to use the provided items. These young ambassadors raised the funds for the hygiene kit materials on their own.
The ambassadors stepped foot in Indus Hospital after a long hiatus due to the current pandemic, fully charged to help the underserved individuals of Pakistan by providing them guidance on how to protect themselves during this pandemic. They gathered and formulated a plan to efficiently and effectively make the hygiene packs. Then together they distributed the kits among the patients and attendants present in the hospital courtyard, clinics, and emergency wards. The volunteers spoke to each individual who was given the hygiene kit explaining to them the proper usage of the items provided. This engaging activity left a positive and encouraging impact not only on the patients and their families but on the volunteers as well. After this activity, the youth ambassadors were greeted by Dr. Abdul Bari Khan, CEO, Indus Health Network and Dr. Zafar Zaidi, Senior Executive Director, Indus Health Network both of them appreciated their efforts and encouraged them to keep up the good work to help patients and individuals everywhere. Their speech charged the youth to do more and better. They are now eager to conduct more on-ground activities for the underserved communities in Pakistan.
Due to the COVID-19 Pandemic, the ambassadors were previously engaged in awareness drives on COVID-19 through digital platforms only. They produced several videos and digital content to create awareness in the masses regarding the pandemic and to educate them on how to protect themselves and the people around them. The Hygiene Kit Drive was their first physical engagement after months of lockdown. They were very careful about following the WHO recommended guidelines and maintained proper protocols throughout the event. Our youth ambassadors are very enthusiastic and look forward to conducting more on-ground activities to help The Indus Hospital in serving many more in need.