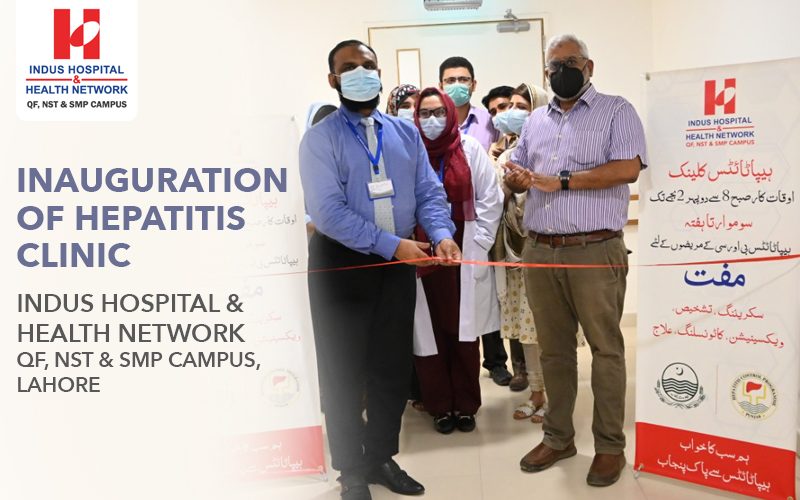 The Indus Hospital & Health Network (IHHN) – QF, NST & SMP Campus has inaugurated its Hepatitis Clinic. This dedicated clinic has been established in accordance with the Memorandum of Understanding (MoU). The MoU was signed with the Government of Punjab's Hepatitis and Infection Control Program, Primary and Secondary Healthcare Department (P & SHD).
Dr. Adil Akhter, Associate Director, Community Health Directorate, IHHN, inaugurated the clinic. Fahim Anwar, Head of Campus, IHHN – QF, NST & SMP Campus, was also present.
Services offered at the Hepatitis Clinic
The Hepatitis Clinic will provide screening, diagnosis, vaccination, counseling, and treatment services for Hepatitis B and C, absolutely free of cost. IHHN – QF, NST & SMP Campus has supplied all the resources, human and otherwise. Furthermore, the Health Department of the Government of Punjab will provide logistical support.
Moving forward, the Hepatitis Clinic team will take initiatives to increase the prevention and control of hepatitis of the target population sub-groups and high endemic regions in Punjab. Working in collaboration with the Government of Punjab, the objective is to strengthen the existing infrastructure and support system at provincial and district levels for efficient and effective implementation of a preventive program.
According to the MoU, IHHN hospitals and medical facilities will establish similar Hepatitis Clinics across Punjab. The aim is to ensure the implementation of Hepatitis Cascade of Care in a standardized manner as per national recommended guidelines.