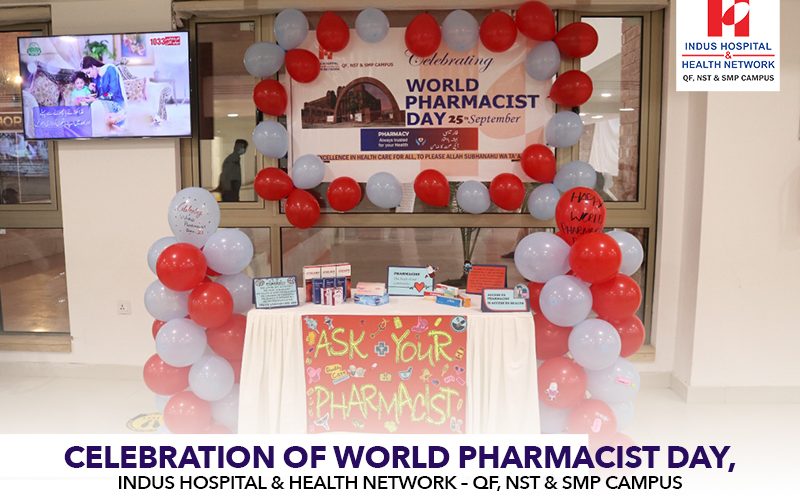 The Pharmacy Department of Indus Hospital & Health Network – QF, NST & SMP Campus, Lahore celebrated World Pharmacist Day by arranging public awareness activities and a Medication Management Seminar.
Dr. Ayaz Ali Khan, Former Chief Drug Controller of Punjab, Former President, Pakistan Pharmaceuticals Association, and Dean of School of Pharmacy, University of Management & Technology spoke at the seminar. Dr. Abdul Wahab, Deputy Manager, Pharmacy, Shaukat Khanum Memorial Hospital, Peshawar, joined him with senior personnel from Pharmacy Department, IHHN – QF, NST & SMP Campus. Several other pharmacists joined the seminar over Zoom.
Dr. Ayaz Ali Khan lauded the efforts of IHHN, especially appreciating the pharmaceutical staff and encouraging them to increase their efforts on research and development.
During the public awareness activities, topics covered include the pharmacists' role in hospitals and the community, proper and effective medication use, and counseling commonly used medicines in minor ailments.
Pharmacy is one of the services that have been operationalized at IHHN – QF, NST & SMP Campus in the first phase. The Pharmacy has been set up as per the standards and protocols, which are the hallmark of IHHN. The advanced paperless system ensures a hassle-free experience for the patient and helps maintain high medication safety standards throughout the hospital.
About World Pharmacist Day
World Pharmacist Day is celebrated annually on September 25, in commemoration of the inauguration of the International Pharmaceutical Federation (FIPS). It honors the work and contributions of pharmacists around the globe.