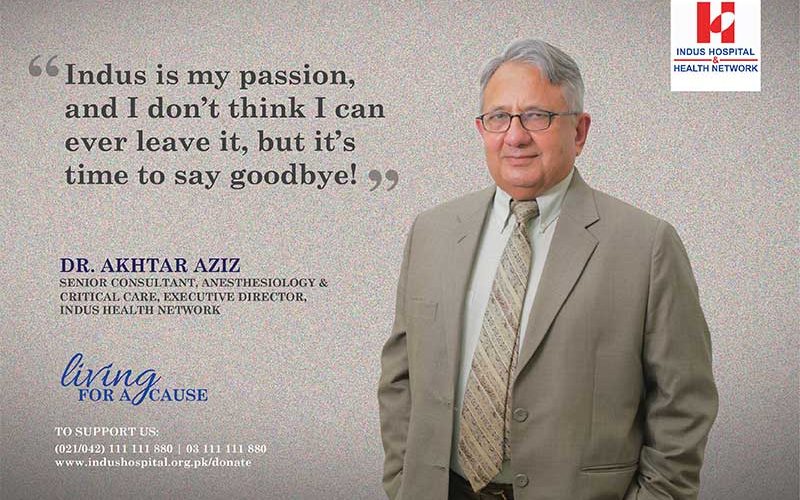 Dr. Akhtar Aziz, a veteran anesthesiologist and one of the founding members of Indus, decides to retire.
"Indus is my passion, and I don't think I can ever leave it, but it's time to say goodbye!"
The Indus Hospital, Korangi Campus opened its door in 2007, but the story of how it came to be started years before that.
In 1986, fresh off the plane from the United States, Dr. Akhtar met Dr. Abdul Bari Khan, who had just graduated from the then Dow Medical College. Heading towards a well-set job, Dr. Akhtar, class of '71 graduate, stopped in his tracks when Dr. Bari told him about his dream.
Dr. Bari told him that he dreams of building a hospital where people would come in and get treated for free. Dr. Akhtar promised to join him once he established that hospital.
But while Dr. Bari was working towards his dream, Dr. Akhtar joined Liaquat National Hospital, and Dr. Bari started the Cardiac Surgery Department, where he soon needed an anesthesiologist. "I volunteered and worked there weekly. I spent four and a half years there and did it for free. I used to go there at seven in the morning and came back whenever the last patient left. During that time, I was able to train four anesthesiologists," says Dr. Akhtar.
But then Dr. Bari's dream came true, and with it, Dr. Akhtar's promise to join him. "The idea for Indus had been there since 1986, but it started materializing around 2002 when we started looking for places. In 2005, we finally found a place, and in 2007 we were able to open its doors for patients," Dr. Akhtar shares.
The fantastic four
If one walked into the executive area of Korangi Campus where the founders sit, one would not believe that Dr. Bari, Dr. Zafar Zaidi, Dr. Akhtar, and Dr. Amin Chinoy once sat in a single room in the building.
"When I joined Indus, there were only four of us, and we were the board and the executive committee. We made all the decisions."
But leaving well-paying jobs, working endless hours, and avoiding the constant questions of "will they, won't they" the four gave it their all to set up their dream hospital. "We had arguments and differences of opinion, but when we walked out of the room, we were of one mind and one decision."
An illustrious career
He has worked at Michael Reese Hospital and Medical Center, Chicago, and as a Consultant and Program Director at Liaquat National Hospital, Karachi. He served as an Executive Director, Indus Hospital & Health Network.
Over his 14 plus years at IHHN, Dr. Akhtar has worked in various roles, mainly pertaining to purchasing, costing, billing, and more recently liaising with the Government of Sindh after the outbreak of COVID-19 in Pakistan, serving as the focal person for Indus. In collaboration with the Government of Sindh, he helped bring the District Headquarter Hospital, Badin, under the management of IHHN.
Dr. Akhtar has a message for all of IHHN employees.
"The time you spend here, spend it honestly."