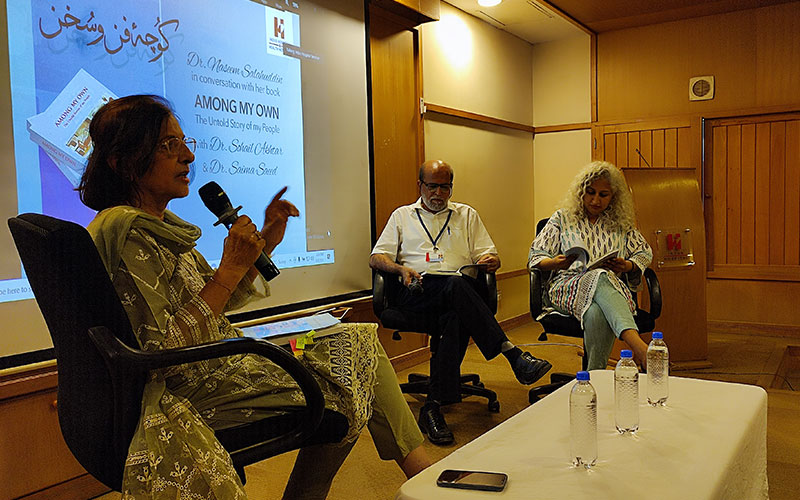 Indus Hospital & health Network (IHHN) recently celebrated the launch of the book Among My Own by Dr. Naseem Salahuddin, Head of the Division of Infectious Diseases at IHHN. Filled with countless stories mined from her career as a practicing physician, the book captures the human side of medicine including the good, the bad, and the utterly bizarre.
In recounting Dr. Salahuddin's interactions with patients, who range from the extremely wealthy to those who don't even have a single rupee to their name, Among My Own touches on various human traits, prejudices, behaviors, and lifestyles common in Pakistani society. Her stories are laced with a mixture of hope, pain, joy, and despair, and impress upon the reader that the depth of human emotion has no limits.
The event was moderated by Dr. Sohail Akhtar and Dr. Saima Saeed who took turns questioning Dr. Salahuddin about the inspiration, background and experience in writing her book. Regarding this Dr. Salahuddin says, "Among My Own is not meant to be a clinical read, but a mirror to society. Medicine has a human side to it and every single patient has a story behind them. Some don't want a doctor, just a listening ear."
On what writing Among My Own taught her Dr. Salahuddin says, "The thing that strikes me most avidly is the misogyny in people. Not just men to women, but especially women to women. Those who stare at others and judge them for their size, color and complexion. You don't run down your own women."
This event was the third of Koocha-e-Fun o Sukhan, a series of motivational talks held quarterly for the benefit of all IHHN employees.