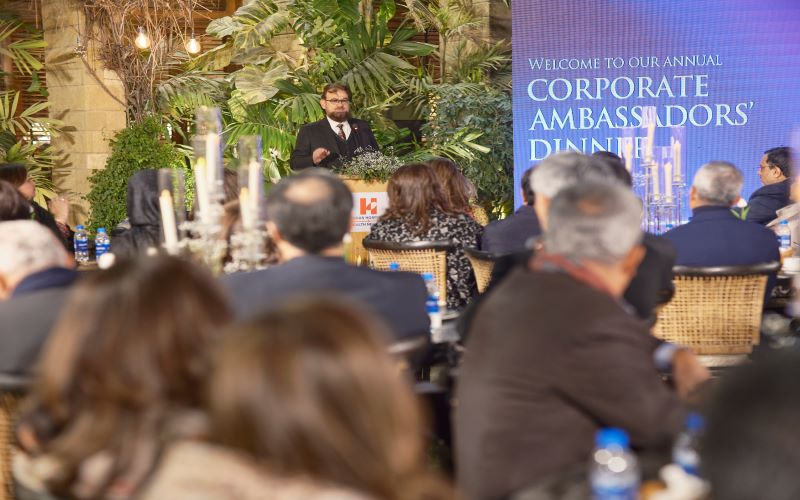 Indus Hospital & Health Network (IHHN) hosted the first-ever Corporate Ambassador Dinner on January 27, 2023. The dinner was attended by more than 100 distinguished guests hailing from Pakistan's leading industries and corporations.
In addition to celebrating IHHN's valued supporters, the event introduced the Corporate Ambassador Program (CAP) and invited the corporate giants to join its League of 100,000 Heroes. This one-of-a-kind initiative aims to create a sustainable source of recurring donations that is the most viable solution to uphold the Network's mission of providing free-of-cost healthcare to all.
Presently, every month IHHN needs approximately PKR 1 billion to treat the growing number of patients across the Network. By creating a league of 100K- heroes, each who contributes PKR 10K each month, IHHN will be able to meet this goal and uphold its mission of Healthcare for All. 100K league members will be able to serve life-saving treatment to approximately six million patients yearly.
During the event, IHHN's senior leadership took the stage to introduce the Network and its ground-breaking impact. Mr. Salim Razak Tabani, Chairman, Resource Development and Partnerships Committee; Dr. Abdul Bari Khan, President; Dr. Zafar Zaidi, CEO; and Mr. Mashhood Rizvi, Executive Director, Communication & Resource Directorate, were present at the occasion. Each thanked the audience for their support and urged them to join CAP to benefit the underserved and underprivileged communities across Pakistan.
Indus Hospital and Health Network is immensely grateful to hosts Mr. and Mrs. Salim Razak Tabani and the Host Committee for making the Annual Corporate Ambassador Dinner a resounding success. Honorable committee members include Amir Paracha, Chairman & CEO, Unilever Pakistan Limited; Bilal Rafi Muneer, Chairman, The Precision Companies; Fawad Anwar, CEO, Alkaram Textile Mills (Pvt.) Ltd; Javed Kureshi, IHHN Ambassador; Shazad G. Dada, President & CEO, United Bank Limited; Sonia Kureshi, IHHN Ambassador; Tanzeela Hussain, Global HR Business Partner, British Council Karachi; Tasleema Taufiq, IHHN Ambassador; Yunus H. Bengali, Ex-Chair, IHHN Board of Directors; and Yousaf Hussain, President & CEO, Faysal Bank Limited.
Bolstered by the overwhelmingly positive response, the Corporate Ambassador Dinner will be held annually.
About IHHN's Corporate Ambassador Program (CAP)
The CAP strengthens IHHN's foothold in the corporate sector and provides the corporate fraternity the opportunity to build a healthier future for Pakistan. Through the CAP, employees are able to leverage their influence in the corporate circle and the public at large to build the brand image of Indus Hospital & Health Network.
To cater to Pakistan's growing population and the ever-increasing demand for affordable quality healthcare, IHHN is building sustainable partnerships to raise funds and increase its capacity and service delivery while maintaining its high-quality standards of patient care. Through the CAP, ambassadors can make an impact by participating in fundraisers, raising awareness through networking events, and supporting IHHN's marketing campaigns and events for increased engagement.