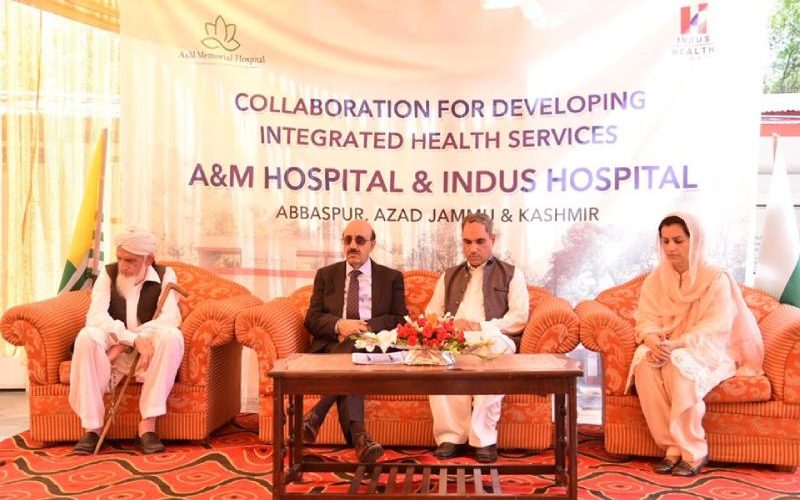 July 1, 2019
Azad Jammu and Kashmir (AJK)'s Ashraf & Munira Memorial Hospital, Potha village, Abbaspur has been linked with the Indus Health Network (IHN). On July 1, 2019 a ceremony was held to celebrate the handing over of the hospital to IHN. Sardar Masood Khan, President AJK was the chief guest. Mr. Amanullah Khan, Member of the Board, IHN represented IHN.
Ashraf & Munira Memorial Hospital was an existing facility and from July 1, 2019 IHN has taken over its management and it will function as an independent primary care site.
President AJK, spoke at the event and told that, "medical centres in remote areas of Azad Jammu and Kashmir would be linked with big hospitals of Pakistan through a modern telemedicine system." He also said that, under the new system, a physician from Karachi through the modern technology could examine patients even in remote places like Abbaspur and Hajira.
Dr Mehnaz Ashraf Haq, Chief Executive of Ashraf and Munira Hospital said that the hospital would provide all basic medical facilities free of cost, and the facility would be further upgraded soon.
In his address, Mr. Amanullah Khan elaborated that, a complete Outpatient Department, a maternity centre, X-ray, laboratory, and pharmacy services have been established with the cooperation of IHN. He further said, "We look forward to our partnership with government of Kashmir and hope this is the first step towards bringing more services to the people of Kashmir."
Dr. Irum, Director General AJK Public Health; Sardar Aftab, Lt. Gen. (Retd) Faiz Jilani, Director General AJK Public Health; Maulana Abdur Razzaq; Sardar Sajid Advocate; Sardar Akhlaq Ayub; Sardar Mushtaaq also attended the event.