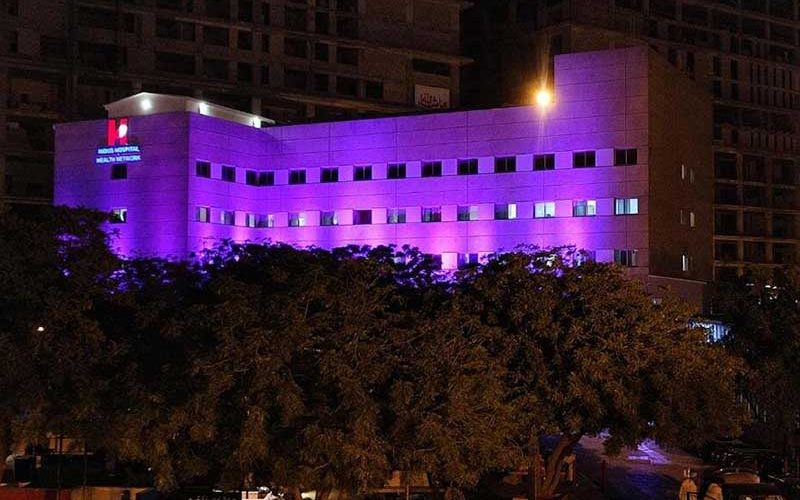 October marks the official month for breast cancer awareness, and to show the importance, the Indus Hospital & Health Network (IHHN) held awareness sessions at its Korangi Campus, QF, NST & SMP and the Manawan campuses in Lahore along with illuminating its campus.
Breast cancer affects approximately 2.1 million women worldwide every year. In Asia, Pakistan has the highest rate of breast cancer. One in nine women in Pakistan experience breast cancer at some stage of their lives.
The Indus Hospital, Korangi Campus, Sheikh Saeed Memorial Campus in Karachi, and the Tehsil Headquarter Hospital Manawan in Lahore were illuminated pink to show solidarity with breast cancer patients. The initiative was taken to draw attention and acknowledge the bravery of cancer survivors.
The Indus Hospital & Health Network offers diagnostic and surgical services to breast cancer patients since 2007. According to the statistics- since 2007, 2,659 patients have visited the hospital for a consultation. Out of which 955 of them were diagnosed with breast cancer. Along with 618 biopsies and 739 mastectomies have been done.
Awareness sessions were held at Korangi Campus and Manawan campus where the doctors spoke about how one should conduct a conduct a yearly breast examination because early detection can save lives. The doctors also spoke about how there is a taboo surrounding discussing this issue.
"The disease is not fatal and is curable. Let's normalize talking about breast diseases," says Dr. Ghina Shamsi, Head of General Surgery.
Moreover, a Breast Cancer Screen Camp was also held for the female employees of Korangi Campus by the Department of General Surgery and Radiology. The departments also distributed pink ribbons were also distributed among patients, visitors, and staff to raise awareness about the disease.
Additionally, the team of doctors also conducted 15 awareness sessions around the city for corporate partners.