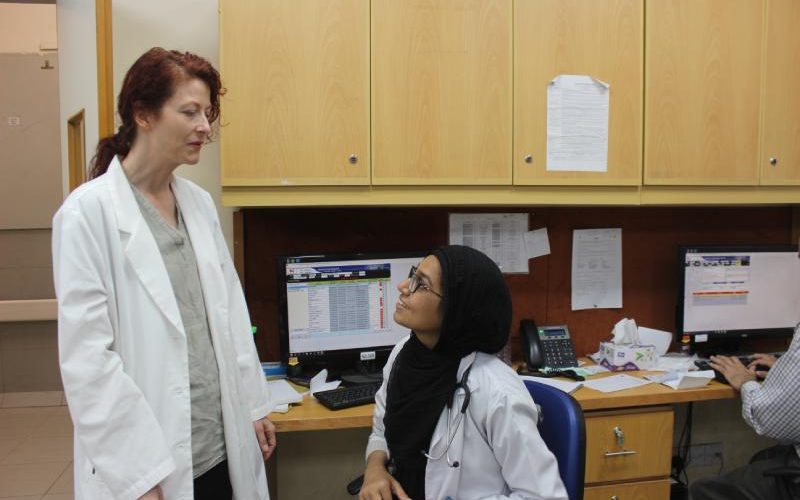 Brigham & Women's Hospital collaborated with Department of Emergency Medicine at The Indus Hospital to conduct a 12-month competency-based Certificate Program in Emergency Medicine (CPEM). The programme aims to train medical officers and residents to better manage the initial triage and stabilization of patients with varying medical, surgical and traumatic conditions.
Currently, most of the Emergency Departments in Pakistan are staffed by healthcare providers with minimal or no training to handle acute, critical and traumatic conditions, resulting in avoidable poor patient outcomes and patient suffering. The programme would hence meet the imminent need for front line EM physicians in the country.
CPEM is being offered in two components: a didactic-only program (CPEM-D), and a clinical program (CPEM-C).  CPEM-D students will participate in a year-long weekly lecture series on core topics in Emergency Medicine, delivered by a combination of national and international visiting faculty.  CPEM-C students will complete the CPEM-D lecture series, as well as clinical work under the supervision of national and international visiting faculty in the Emergency Department at The Indus Hospital.
Initiated in July 2018, 11 international experts and 5 local experts in Emergency Medicine are conducting the trainings at The Indus Hospital, Korangi Campus in Karachi.  The visiting faculty will be supported by the core faculty which includes the Programme Director, Dr. Ghazanfar Saleem, Consultant and Head of Emergency Medicine, The Indus Hospital; Academic Faculty Lead and Program, Megan Rybarczyk, MD, Emergency Medicine Fellow with Harvard University Brigham and Women's Hospital; Programme Faculty Lead, Zayed Yasin, MD, Assistant Director of International Collaborations and an attending Emergency Physician at the Brigham and Women's Hospital & Faulkner Hospital in Boston MA.
In line with its vision, The Indus Hospital not only serves to provide free of cost quality healthcare to the underserved members of the community in Pakistan, It also strives to develop the capacity of healthcare professionals to ensure latest medical practices are applied to the service being provided to the patients.
For more information about the programme, please visit CPEM website.