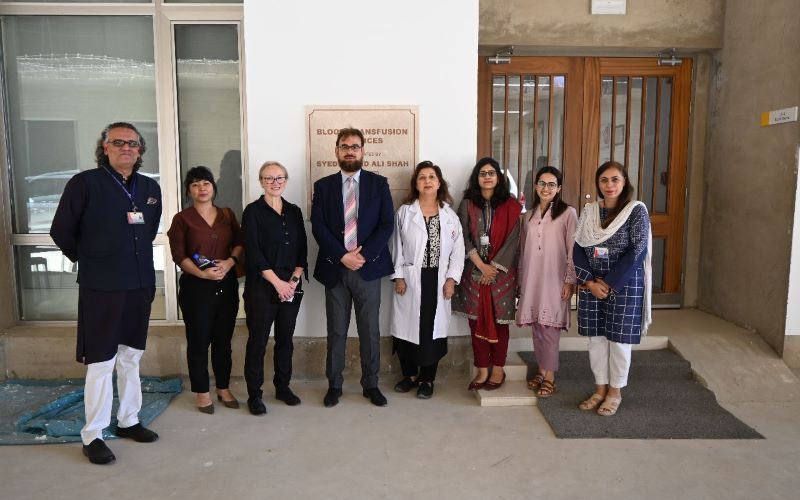 Ms. Sarah Mooney, British Deputy High Commissioner Karachi and Director of Trade Pakistan; and His Majesty's Deputy Trade Commissioner for Pakistan, Iran, Iraq, Jordan and Lebanon – visited Indus Hospital, Korangi Campus. Dr. Abdul Bari Khan, President of Indus Hospital & Health Network (IHHN), briefed her about IHHN's mission of providing holistic care to the patients. During the visit, she met with the staff and patients in the Pediatric Wards and was very impressed by the quality of medical care that was being given to the patients absolutely free. Ms. Asma from Pediatric Psychosocial Services briefed Ms. Sarah on the services IHHN provides to pediatric patients. The Deputy High Commissioner was quite impressed with the concept of the hospital-based school "Indus Kay Sitaray" and showed interest in attending the Graduation Ceremony of the patients. She offered to host an evening at British High Commission for Pediatric Oncology patients before Ramazan.
Ms. Sarah also visited the Blood Center at the New Hospital Building. Expressing her appreciation for the latest technology and systems IHHN has taken, she offered to help in establishing academic and research relationships between UK-based institutes and the Network. Mr. Mashhood Rizvi, Executive Director, Communications & Resource Development Directorate, presented a briefing on the overall Network, its ideology, vision & mission, and growth over the past 15 years.
At the end of her visit, she shared that since her arrival in Pakistan, she had heard a lot about Indus Hospital & Health Network. Although her visit to Indus Hospital was short, she was highly impressed by the Network's impact. She expressed her appreciation towards the overall mission of IHHN and offered to support the organization in many ways.