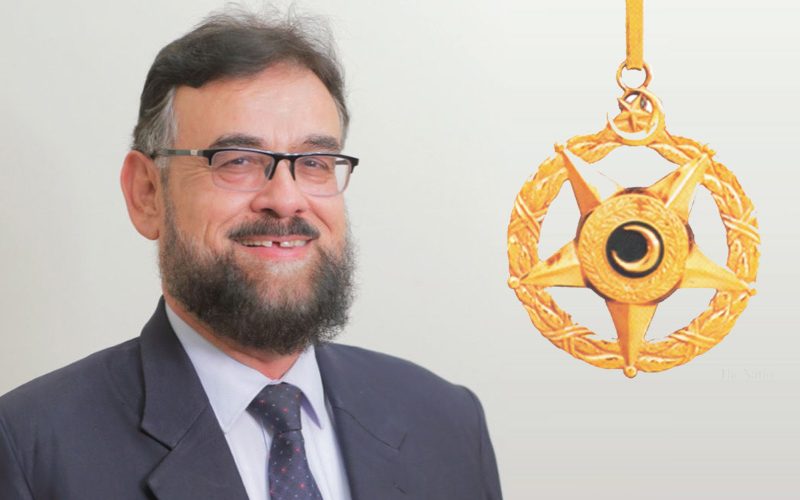 For the outstanding contribution and selfless service to change the paradigm of the provision of quality healthcare across Pakistan, Dr. Abdul Bari Khan, CEO, Indus Health Network, was conferred the second highest civilian award – Hilal-e-Imtiaz by Dr Arif Alvi, President of Islamic Republic of Pakistan on March 23, 2019 at the investiture ceremony held at the President's House in Islamabad.
Dr. Abdul Bari Khan is a Dow Medical College alumni who graduated in 1986. He completed his fellowship F.C.P.S. in Cardiac Surgery and was commissioned as Assistant Professor Cardiac Surgery in the year 1999. While studying, he became a member of the Civil Hospital's Patients Welfare Association. The year 1986 was a turning point in his life when he witnessed the miseries of Karachi bomb blast victims. Later on, he, along with his friends and colleagues worked hard to collect donations and established a well-equipped casualty ward at the Civil Hospital.
During this struggle, he started thinking of taking an initiative to reform the flaws of the public healthcare system. In 2004, Dr. Bari came in contact with the management of the then Islamic Mission Trust. The Trust had established a hospital in Korangi but could not manage to run the hospital due to the city's unstable security situation. After joining hands with them, in 2007 Dr. Bari embarked upon a never-ending journey – the establishment of The Indus Hospital (TIH).
By 2017, The Indus Hospital had three TIH campuses in Karachi and continued to expand its services across Pakistan. Today Indus Hospital has evolved to become Indus Health Network that comprises of 12 full-service multi-disciplinary hospitals located in Karachi, Badin, Bhong, Muzaffargarh, Multan and Lahore; Three Physical and Rehabilitation Centers in Karachi, Lahore and Muzaffargarh; A hi-tech Blood Center at its Korangi Campus in Karachi; and four regional Blood Centers in Karachi, Multan, Bahawalpur, and Jamshoro. Through its Global Health Directorate, IHN focuses on early detection and prevention and has established family medicine clinics and a container clinic at 22 independent sites, launched a large number of community-based public health programs across 41 districts of Pakistan.
IHN is a not-for-profit healthcare system which solely relies on donation and funding coming from individuals in the form of Zakat and sadaqat, corporate donations, and government grants. To-date IHN has impacted the lives of more than 8 million patients with the provision of quality healthcare absolutely free.
Indus Hospital and Indus Health Network's idea would not have taken a concrete shape without Dr Bari's passion, commitment and hard work. Apart from his professional responsibilities of a surgeon, Dr. Bari is a known social activist devoted for the promotion of medical facilities and services in the country. For his dedicated services to improve the healthcare service delivery in Pakistan, in 2015 he was conferred with Tamgha-e-Imtiaz, the third highest civilian award of Pakistan.