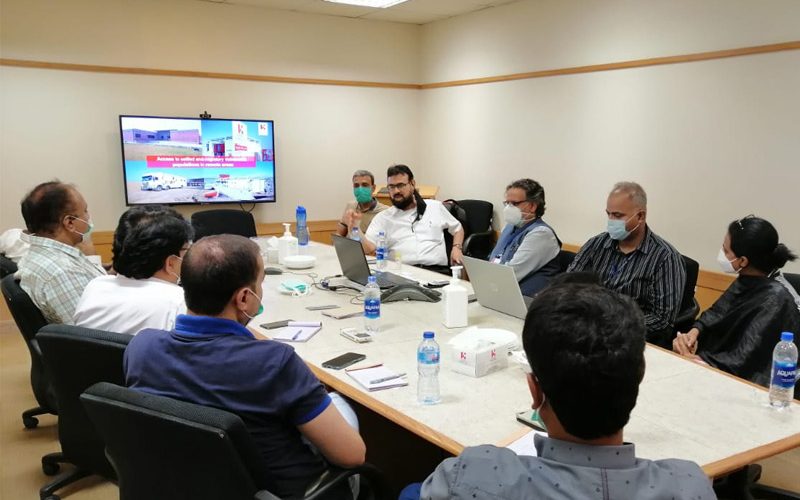 September 12, 2020, Karachi: Bureau Chiefs and reporters of some leading Pakistani television channels met Dr. Abdul Bari Khan, Chief Executive Officer, the Indus Hospital and Health Network at the Korangi Campus on September 12, 2020.Syed Mashhood Rizvi, Executive Director, Communication and Resource Development Directorate, IHN, Fawad Bin Rashid, Media Relations Manager, IHN and other officials were also present at the event.
Mashhood Rizvi briefed the audience about the history of the Indus Hospital, Indus Health Network's current and upcoming projects, its expansion plans, and its goals via a presentation. He also informed about some major health programs and their impact on the society.
Dr. Bari spoke about the Network's collaboration with corporate partners, international organizations, and especially with the provincial governments. He also talked about IHN's role during the COVID-19 pandemic.
The session was attended by Aslam Khan, Bureau Chief, Karachi, Dunya News, Faheem Siddiqui, Bureau Chief, Karachi, Geo News, Faisal Hussain, Bureau Chief, Karachi, Express News, Arfeen, Bureau Chief, Karachi, Hum News, Asif Jaffery, Bureau Chief, Karachi, Channel 24 HD, Anwar Khan, ARY News, and Hameed Soomro, GNN.
The guests were then given a tour of the campus and shown different academic and clinical areas of the hospital.