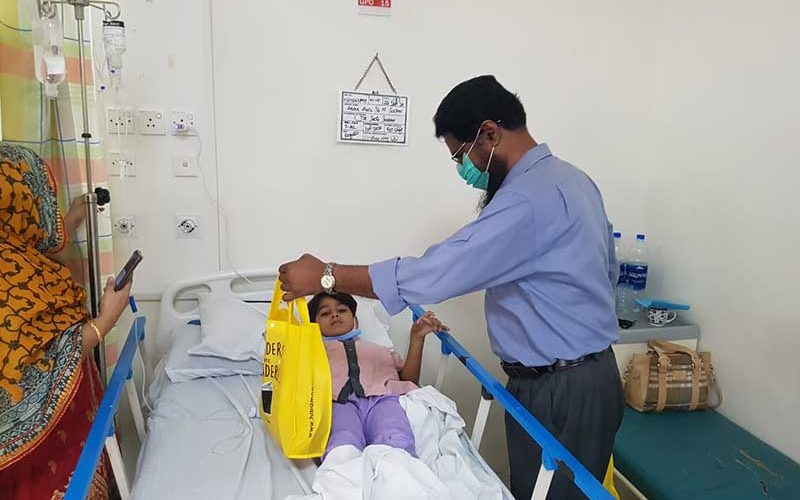 Cancer is one of the major causes of death in children. While the survival rate for many childhood cancers is 80% in developed countries, it is less than 20% in Pakistan. Children comprise one-third of the 190 million people in the world's sixth most populous country. Still, the lack of dedicated pediatric centers means there is a real danger of misdiagnosed children for severe ailments. The Indus Hospital & Health Network (IHHN) is at the forefront of combatting this issue and has taken strides towards addressing the problems faced by the youth.
Digital activities held
To mark Childhood Cancer Awareness Month, IHHN hosted several digital and on-the-ground activities. Multiple programs, including an exclusive program on the iHealth channel, were dedicated to discussing IHHN's Childhood Cancer program and highlighted key departments working with our patients. Doctors and medical professionals representing IHHN participated in various radio shows and media coverages to spread awareness for our childhood cancer patients.
Events conducted for Childhood Cancer Awareness Month
Indus Yaqeen, IHHN's youth ambassador program, organized a Bake Sale at Dolmen Mall, Clifton, Karachi. Aimed at raising funds for our pediatric ward, it also helped generate interest and awareness. The enthusiastic volunteers engaged and networked with interested shoppers and fans of the delectable pastries they were selling.
Mindful Studios Karachi and Children's Literature Festival Pakistan conducted a two-day exercise engaging the children in art therapy. Furthermore, the Science Fuse team hosted sessions teaching the children in our pediatric ward in coordination with Indus' in-hospital school, Indus Kay Sitaray.
In addition, Indus Kay Sitaray held their fifth graduation ceremony with 15 children graduating. All patients were cancer patients. Dr. Abdul Bari Khan, CEO of IHHN; Dr. Shamvil Ashraf, Director of Pediatric Oncology; and Dr. Muhammad Fareeduddin, Senior Consultant and Chair, Pediatric Services, attended the event.
MCM sponsored activities
The My Child Matters (MCM) initiative was launched in 2005 by the Sanofi Espoir Foundation. It has established a partnership with the IHHN to help the children of Pakistan by early diagnosis through timely detection of signs and symptoms of cancer. Throughout Childhood Cancer Awareness month, MCM collaborated with the IHHN in various campaigns.
Flyers were handed out at different hospitals under IHHN, detailing childhood cancer's common signs and symptoms.
Additionally, IHHN signed an MOU with the Pediatric Hematology/Oncology Department at the Civil Hospital, Nawabshah, to teach and train holistic improvement for patients. Furthermore, IHHN also celebrated Pediatric-Oncology Team Appreciation Day with gifts for all staff and allied services and gift distribution to in-patients.