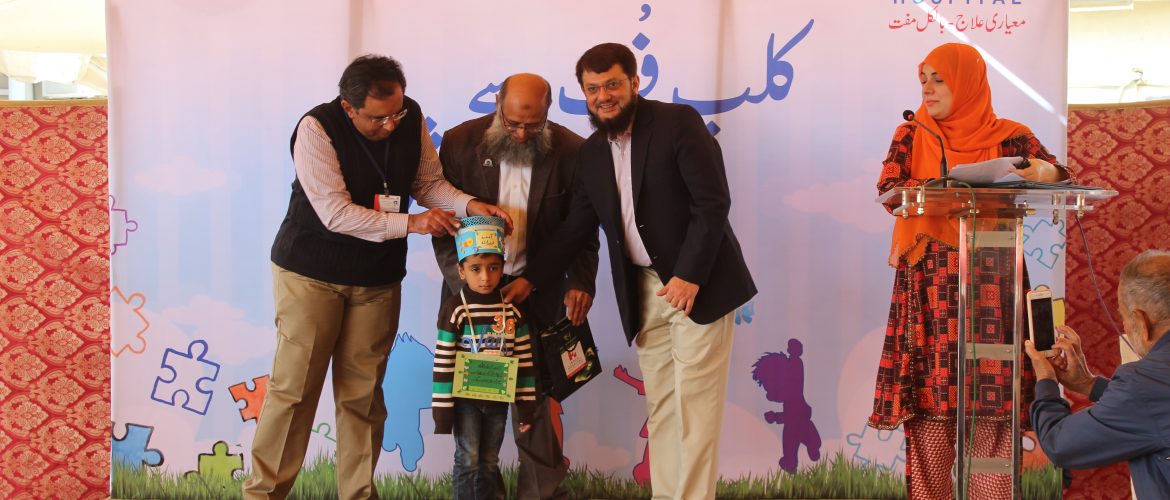 To celebrate the successful completion of the four-year treatment program of children affected with clubfoot, The Indus Hospital (TIH) organized "Clubfoot say Jeet ka Jashan" on December 30, 2017.
TIH launched a service delivery program "Pehla Qadam" in 2011 in collaboration with Amer Haider charitable Foundation. Working closely with Ponseti International Association, The University of Iowa, USA, the program aims to create public awareness about clubfoot and its optimal management, to eliminate untreated clubfoot in Pakistan, to train Pakistani Orthopedic Surgeons in the Ponseti method to establish clubfoot services in Pakistan.
Speaking at the event, Dr. Amin Chinoy, Executive Director, Physical and Rehabilitation Directorate said that, "According to an estimate approximately 5,400 children in Pakistan are born with clubfoot every year but only a minor number of them receive proper treatment. It is a congenital defect in which one or both feet of a newborn are rotated inwards and downwards. It makes the movement of the foot very painful. Clubfoot can be cured completely and that too without surgery if the child receives timely treatment."
With 900 children enrolled in the program, this year, 53 children successfully completed Ponseti Protocol for Clubfoot treatment. To celebrate their first walk, these current and previous patients were invited to appreciate the efforts of patients and their families. During the event parents also appreciated the dedication of doctors, physiotherapists and other staff. This is the second batch of children who has been treated free of cost at the Indus Hospital.
Program started with the recitation of the Holy Quran followed by the welcome note by Dr. Amin Chinoy. Children and their families expressed their happiness, satisfaction and gratitude upon successful completion of the treatment.
About The Indus Health Network (IHN)
In the year 2007, The Indus Hospital (TIH) started as a 150 bed, state-of-the-art, tertiary healthcare facility providing quality treatment free of cost to every patient. After widening the scope of work, the hospital has turned into the Indus Health Network (IHN). The network is focusing on the development and management of various public and private hospitals throughout Pakistan. The network is also carrying out Malaria, AIDS and TB outreach programs in the country.