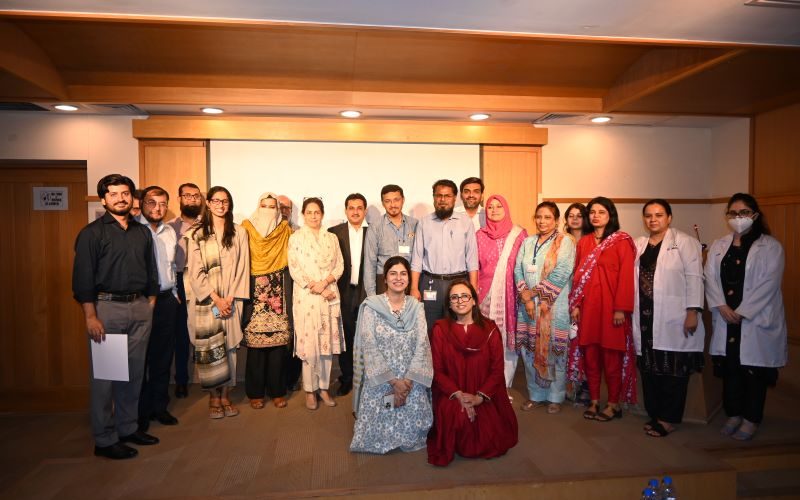 Indus Hospital & Health Network held a Continuing Medical Education Course: Acute Emergencies in Medicine & Allied on May 6, 2023. The CME consisted of ACCME-accredited activity in collaboration with CPSP and was attended by around 120 participants, including Healthcare professionals of all specialties who are involved in diagnosing and managing acute emergencies, Residents, and fellows.
The management of acute emergencies has metamorphosed in the last 20 to 25 years. Recognizing the unmet need of patients presenting with acute emergencies has led to the evolution of acute/critical care medicine as a separate discipline. But it is increasingly recognized and emphasized that the management of acutely ill patients requires a multidisciplinary approach. Providing effective augmented care at the point of admission of these patients is the responsibility of the medical team, irrespective of the physical space. This requires timely recognition of danger signs for optimum patient care.
In this case-based learning activity, the participants received updated knowledge regarding how to approach patients with acute emergencies. They will have a better understanding of the differential diagnosis of the most common and important symptoms as shock and shortness of breath, and how to manage them accordingly.
The topics discussed included:
How to approach a patient with Shock
Management of patients with acute shortness of breath
Renowned speakers at the event:
Komal Baloch (Consultant, Critical Care Medicine)
Hamid Ali (Junior Consultant, Gastroenterology)
Aneela Hussain (Consultant, Infectious diseases)
Dr. Asadullah Kundi
Mujahid Hussain (Registrar, Pulmonology)
Faiza Saeed (Consultant, Nephrology)
Expert Panelists at the event:
Naseem Salahuddin: Head of the Department of Infectious Diseases, IHHN
Hira Ashraf: Director of the Primary Care Program, IHHN
Manzoor: Consultant Gastroenterologist and Hepatologist, IHHN
Sohail Akhtar: Professor of Pulmonology and head of the department.
Salman Imtiaz: Professor and Head of the Department of Nephrology, IHHN
Asadullah Kundi: Professor and Consultant Cardiologist, IHHN
Fivzia Hereker: Chair Medicine and Allied, IHHN

Dr. Nawal Salahuddin

Dr. Jawed Warind

Dr. Amber Sabeen.

Syed Ghazanfar Saleem: Chair of the EmergencyMedicine service line at IHHN