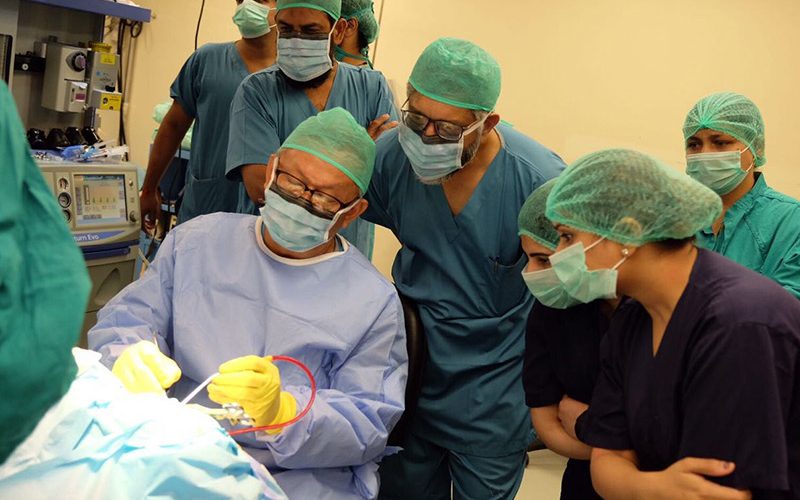 Dr Lokman Saim performs cochlear implant surgeries
Prof Dato' Dr Lokman Saim, Vice Chancellor cum Dean School of Medicine KPJ Healthcare University College, Malaysia recently visited Indus Hospital to perform cochlear implant surgeries and train the cochlear implant surgery team lead by Dr Asif Ali Arian, ENT Consultant and Surgeon at Indus Hospital. During his visits in September and October Dr. Lokman performed 12 cochlear implant surgeries on patients from ages 2 to 15 years (pre-lingual and post-lingual) to enable them to conquer their hearing disability.
Impressed by the dedication of the Cochlear Implant Program team at Indus Dr Lokman plans to visit quarterly to perform more surgeries and build capacity of the team at Indus.
Indus Hospital started its Cochlear Implant Program in the year 2014.Till date it has performed 53 cochlear implant surgeries on patients. The program itself not only enables patients to receive cochlear implants but also focuses on the rehabilitative services such as speech therapy to enable these patients to communicate again.
Prof Dato' Dr Lokman recipient of the 'International Humanitarian Award for Public Service' by the American Academy of Otorhinolaryngology – Head & Neck Surgery Foundation, the highest professional body representing the Ear Nose and Throat Surgeons of USA. He is a pioneer in Malaysia and the Asian region in the field of neuro-otology, a specialized branch of ENT surgery of the ear and brain particularly for the recovery of hearing loss. To-date Dr Lokman has performed and assisted more than 600 cochlear implant surgeries in Brunei Darussalam; Jakarta, Indonesia; Karachi & Lahore, Pakistan and Ho Chi Minh City, Vietnam.