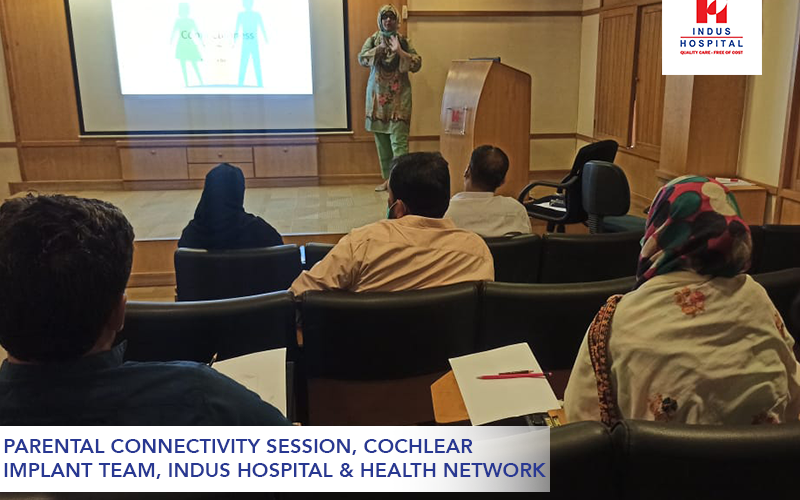 The Cochlear Implant team at The Indus Hospital organized an event titled 'Parental Connectivity' on February 11, 2021, for parents of Cochlear Implant recipients, to foster cooperation in the rehabilitation of their children.
The session began with an interactive icebreaker led by psychologist Bisma Gulzar. During the session, parents were instructed to visually express what the term house or home means to them. Building upon the breakthrough into their perceptions, Bisma established the significance of how the home environment impacts children.
She explained how children are highly observant individuals and learn better through what they see rather than what they are told. She also talked about how the triad of home, school, and The Indus Hospital requires synchronous goals for the child to succeed in their personal, academic, and social lives.
She greatly emphasized an equal partnership of both parents and not just the mother, in the upbringing as well as rehabilitation of the child.
Speech-Language Therapists Khadija Fatima and Rabika Amanullah linked the theme of the event to the carryover of therapy goals. They discussed how important it is for both the father and mother to know and apply the goals of speech and language therapy in the home setting. They reiterated that the Cochlear Implant Program has a stringent policy to receive consent from both parents to proceed for Cochlear Implant surgery, and thereby the responsibility of outcomes is equally shared by both.
Through a holistic approach and better connectivity with each other, parents were urged to make long-lasting memories with their children.
The take-home message for parents was that despite their busy schedules, they must take out quality time for their children as this is a critical period for not just their listening, speech, and language development but also their personal, social, and emotional development.