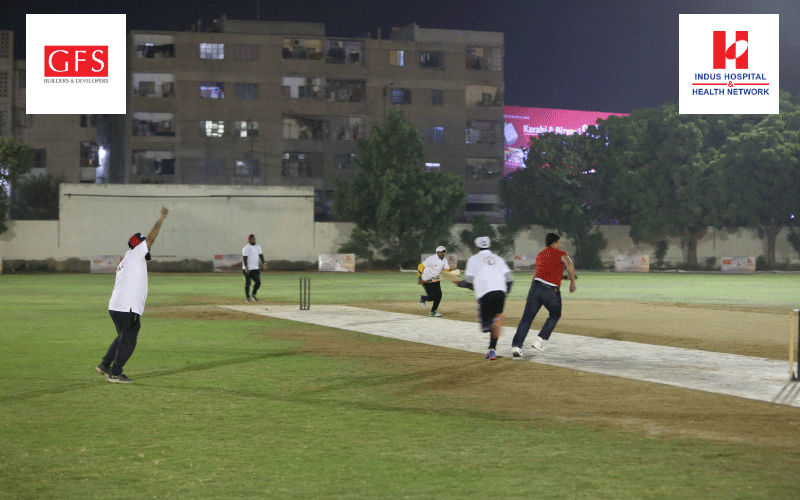 Indus Hospital & Health Network (IHHN) organized its first-ever two-day Corporate Cricket Championship 2022 to raise funds for the construction of Pakistan's largest free-of-cost hospital in Karachi.
The championship held on January 8, 2022 at the UBL Sports Complex, Karachi, was organized in collaboration with GFS Builders and Developers. Eight leading corporates: GFS GFS Builders and Developers; Dubai Islamic Bank; Hospicare; Haseen Habib; Nelson Paints; Sui Southern Gas Company Limited; and TPS participated in the championship. Cargo Express and Herbion Pakistan also partnered to support the event.
The two-day thrilling event not only promoted a healthy sport but also brought together the corporate community to join hands to support IHHN and its initiatives to provide free-of-cost quality healthcare to the people of Pakistan.
Former Captain of Pakistan's national cricket team Sarfaraz Ahmed and Imran Wahid, Chief Executive Officer, GFS Builders, and Developers, were the Chief Guests.
Match Summary:
Semi-Final 1: TPS vs. Haseen Habib  |  Won by: Haseen Habib
Semi-Final 2: Dubai Islamic Bank vs. Hospicare  |   Won by: Dubai Islamic Bank
Final: Haseen Habib vs Dubai Islamic Bank   |  Won by: Dubai Islamic Bank