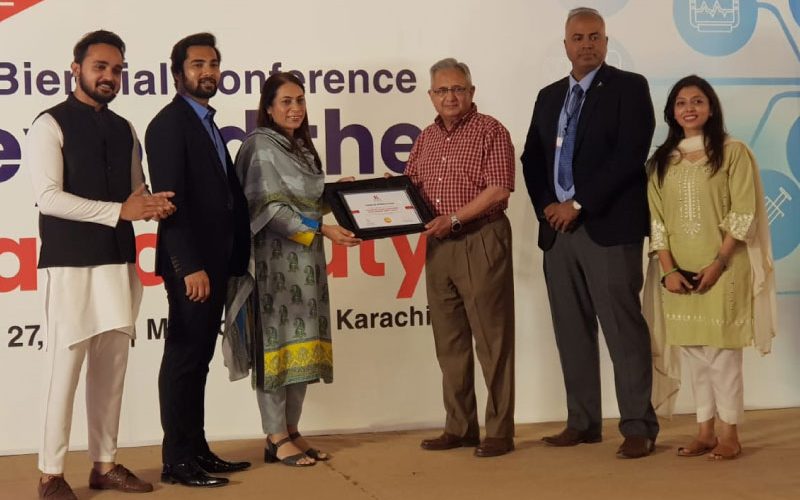 The Indus Hospital & Health Network (IHHN) hosted the COVID Appreciation ceremony on Sunday, March 27, 2022, at the Marriott Hotel, Karachi. The event honored the selfless individuals who had actively contributed and participated throughout the COVID-19 pandemic in various clinical and non-clinical departments of IHHN. Shields were presented to 55 departments across the Network.
Chief Guest Abdul Karim Paracha, Chairman of the Board of Directors, IHHN, started off the proceedings. The list of speakers also included Dr. Abdul Bari Khan, Chief Executive Officer, IHHN, and Dr. Ashar Alam, Medical Director, IHHN.
Abdul Kareem Paracha began with a heartfelt thanks to everyone in attendance to celebrate the achievements of the unsung heroes of IHHN, whose passion and dedication had made a significant impact on the people of Pakistan during these uncertain times.
The COVID-19 leads who worked tirelessly on the frontlines were also invited on stage to share their experiences. The prestigious panel included Dr. Fivzia Herekar, Chair Medicine & Allied Services, IHHN; Dr. Ghazanfar Saleem, Emergency Services, IHHN; Dr. Samreen Sarfaraz, Consultant Infectious Diseases, IHHN; Dr. Adeel ur Rehman, Consultant Anesthesiologist, IHHN; Dr. Saba Jamal, Director Blood Centers, and Clinical Laboratories, IHHN; Dr. Samia Shuja, Senior Consultant, Obstetrics and Gynecology; and Naveed Ahmed, Clinical Services Management, IHHN