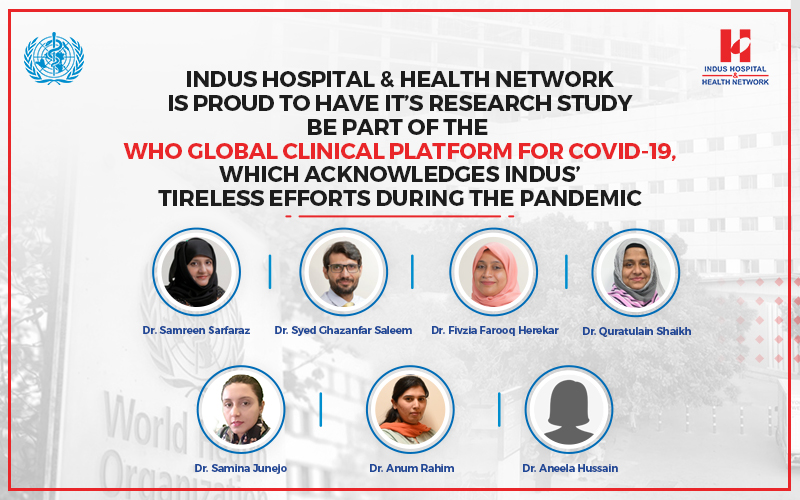 Researchers at The Indus Hospital, Korangi Campus, Karachi, conducted a cohort study during the first wave of COVID-19 from March to June 2020 in order to estimate in-hospital mortality and its determinants among COVID-19 patients. The study — published in the esteemed PLOS One medical journal in May 2021, was among the first reports on in-hospital mortality among COVID-19 patients from Pakistan. It has received acclaim and acknowledgment from the international community.
An exhaustive history, examination, and review of patient charts was done to record the details of the patients affected by the deadly virus. The results of this study were expected to guide local physicians in identifying high-risk patients and guide their management. The study described patient demographics, clinical and laboratory features, and response to therapeutic strategies. Final outcomes were also reported, including in-hospital mortality.
The study was recognized by the World Health Organization (WHO), who inducted the IHHN research data as part of their database for the WHO Global Clinical Platform for COVID-19. The platform serves in the global effort to collect clinical data relating to suspected or confirmed cases of COVID-19 and contribute data to the WHO Global Clinical Platform.
The platform has contributors from across the globe, with member states, health facilities, and other organizations participating in the global effort to collect anonymized clinical data of COVID-19 to the WHO Global Clinical Platform.
The team from IHHN was composed of Dr. Samreen Sarfaraz, Dr. Quratulain Shaikh, Dr. Syed Ghazanfar Saleem, Dr. Anum Rahim, Dr. Fivzia Farooq Herekar, Dr. Samina Junejo, and Dr. Aneela Hussain.
The Indus Hospital Research Center facilitated the research project throughout and assisted in collaborating with WHO for data sharing.
Read the study here: journals.plos.org/plosone/article?id=10.1371/journal.pone.0251754