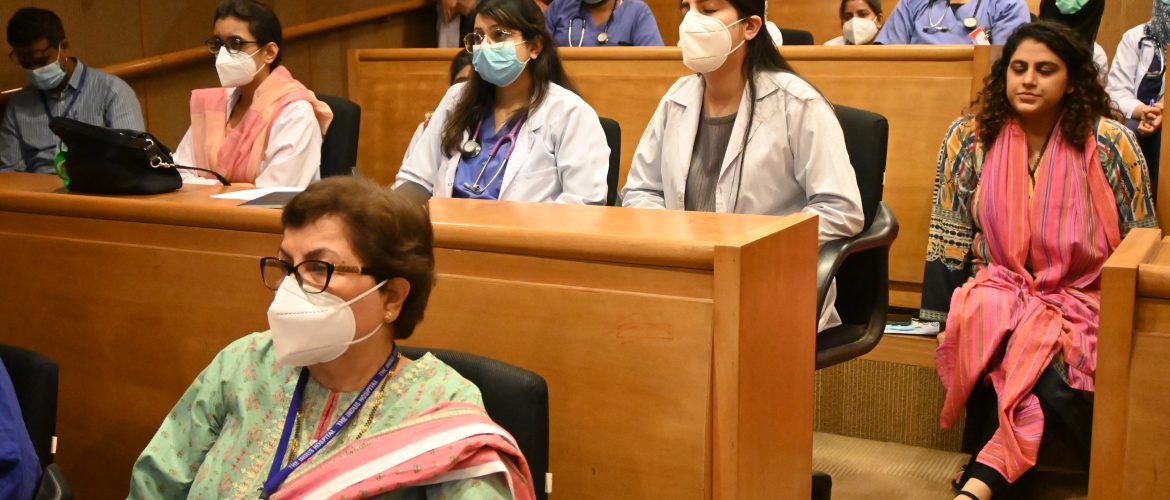 The Department of Internal Medicine & Medical Intensive Care Unit of the Indus Hospital, Korangi Campus, organized a Fundamental of Critical Care Support Course with the support of the Society of Critical Care Medicine, USA. The sessions were held virtually on Monday, 15 November 2021, and in-person on Tuesday, 16 November 2021. The virtual session was a lecture conducted by the team at the Medical College of Georgia in Augusta, Georgia, USA. The physical workshop was held at the Korangi Campus, where the participants were given hands-on training in respiratory and ventilation support. Participants had to complete a pre and post-test exercise to qualify for the sessions, with 30 of them meeting the eligibility to attend. They were from departments of internal medicine, COVID unit, Pulmonology, Nephrology and consisted of residents, junior consultants, and registrars.
Dr. Akbar Herekar, Anesthesiologist and Critical Care specialist and Assistant professor of Anesthesiology and Critical Care at the Medical College of Georgia, headed the session. He worked alongside Dr. Tariq Aziz and Dr. Adeel Ur Rehman, Senior Consultants of Anesthesia at the Indus Hospital, Korangi Campus. The skill station was designed to sensitize the doctors in attendance to ventilation and brush up the skills of those who have some experience.
Dr. Saeeda Haider, Chair, Anesthesiology & Surgical Intensive Care Services, was in attendance and expressed her hopes that these workshops would become a regular routine.
"It's wonderful to have it on campus, and I look forward to furthering our partnerships to help train our doctors and residents in critical care. We are thankful to Dr. Akbar Herekar for visiting us and lending his expertise. We hope that it will lead to more professionals attending and delivering lectures and workshops physically rather than virtually."
Dr. Akbar Herekar was impressed with the Indus Hospital's facilities and looks forward to returning in the future. "I am excited to see IHHN expanding the Korangi Campus and adding so many critical care and ICU facilities. They are providing care and treatment that can't be found anywhere else in Pakistan."