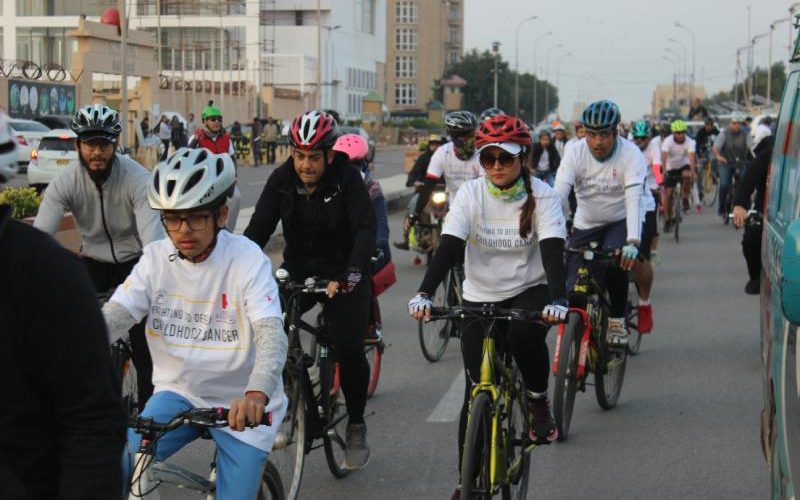 Critical Mass Karachi and the Indus Hospital Join Hands to Raise Awareness about Paediatric Cancer
The Indus Hospital (TIH) organised a bicycling event in order to raise awareness about paediatric cancer in Pakistan. A team of cycling enthusiasts from Critical Mass Karachi joined hands with TIH. The event took place on March 3, 2019 at Moin Khan Academy, Karachi.
Critical Mass is a series of bicycle rides that take place in cities across the world, where cyclists hit the roads in massive numbers. While they are out there, they are able to get a message across about the importance of being aware of cyclists while the objective of Critical Mass Karachi is to celebrate cycling and reclaim its share in the streets of Karachi.
Cyclists along with cancer survivors participated in the event. They gathered at the Moin Khan Academy at 7.00 am and started the ride. The ride ended at 8.30 am. Dr Shamvil Ashraf, Executive Director, Medical Services, Indus Health Network (IHN) spoke at the event. Paediatric cancer survivors presented their journey to recovery through their art and craft work.
In Pakistan, annually, approximately 8000 children – under the age of 18 years – are diagnosed with cancer. At present, Pakistan has only 13 centres for paediatric cancer care including TIH. TIH Korangi Campus has 85 exclusive beds for paediatric oncology patients. As of June 2018, about 9,000 children have been treated for cancer and blood diseases. TIH offers treatment for Leukaemia; Renal tumour; Retinoblastoma; Neuroblastoma; Myelodysplastic Syndromes; Lymphoma; Hepatic tumour; Germ cell tumour; Soft tissue sarcoma; Central nervous system tumour and Intra-spinal tumour; Malignant bone tumour; Epithelial neoplasma and melanoma; and Langerhans cell histio-cytosis/ Haemophagocytic lymphohistiocytosis. Indus Paediatric Oncology Database collects information of cancer cases reported at the Indus Hospital and associated centres which are part of My Child Matters (MCM) project. It currently holds more than 3000 records of paediatric cancer patients from 2016 till now. An average cancer treatment costs 500,000 and TIH provides absolutely free treatment for all its patients through donations, and Zakat.