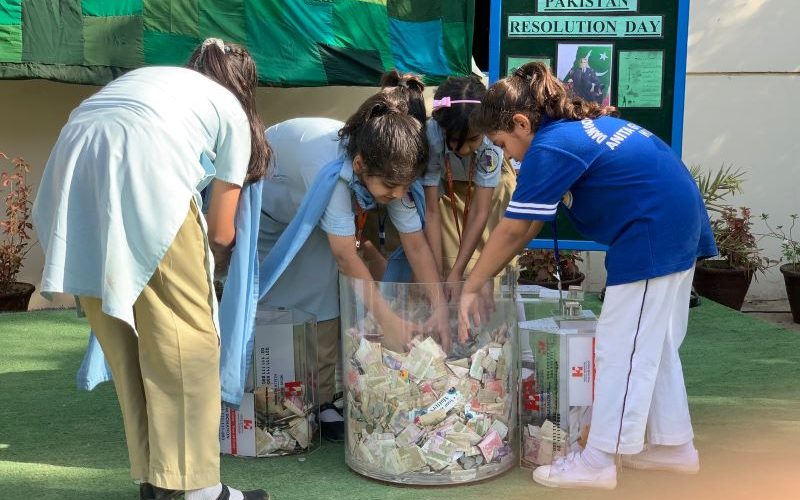 Indus Hospital and Health Network is proud to join hands with Dawood Public School to work towards the betterment of the health of underprivileged communities across Pakistan. Dr. Abdul Bari Khan, Founding President of Indus Hospital and Health Network (IHHN), visited Dawood Public School (DPS) on March 28, 2023. There he gave an inspiring speech to the young students, and – citing IHHN as a unique example – encouraged the children to dream big and work for the betterment of less privileged communities surrounding them.
Following Dr. Bari's speech, the students handed over the donations collected in their Indus Tarbiyat boxes. All proceeds will be used to provide free-of-cost, quality care for children with cancer at IHHN's dedicated pediatric oncology facilities.
During his visit, DPS also conducted several activities in celebration of Pakistan Resolution Day. The students performed a lively and engaging skit in which they took on the roles of famous leaders of the Pakistan movement and shared their thoughts about what those leaders would have to say to the youth of current-day Pakistan. The celebrations helped to invoke a spirit of patriotism among all those gathered and highlighted the importance of working together to serve our fellow citizens in need.
Indus Hospital and Health Network is grateful to the students of Dawood Public School for their contribution towards IHHN's noble cause. As part of the youth of Pakistan, IHHN is committed to empowering these students to become ambassadors of change who will lead Pakistan into a brighter and healthier future.