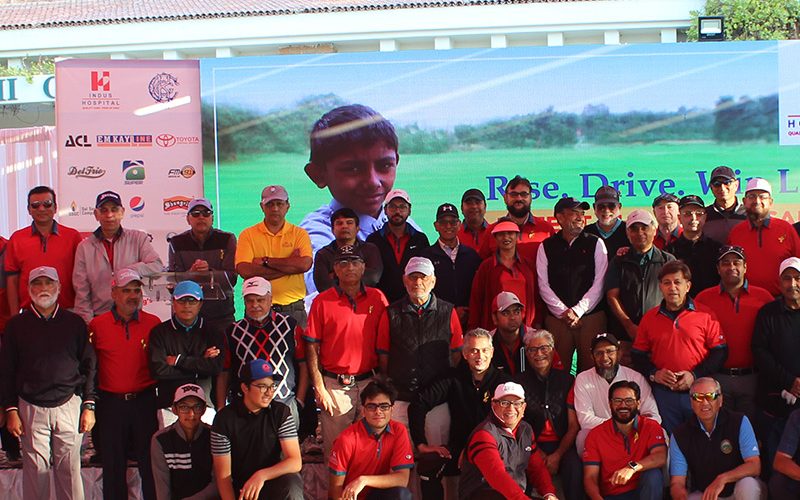 The Indus Hospital Golf Tournament is an annual event which serves to raise funds for various initiatives and endeavors at The Indus Hospital. This year TIH held its 5th Annual Golf Tournament at Karachi Golf Club on February 9, 2020, where 132 distinguished golfers played to help Indus Hospital to provide free-of-cost treatment for the children who are being treated for cancer and blood diseases.
The Indus Hospital's Pediatric Oncology services started in the year 2014 when the Children Cancer Hospital merged with The Indus Hospital. The dedicated 85-bed Pediatric Oncology unit at TIH comprises of out-patient clinics, general wards, oncology day care unit, dedicated emergency unit, a covered outdoor play area, psycho-social and counseling services and a hospital based school 'Indus Kay Sitaray'. With a dedicated team of healthcare professionals and volunteers – including students, artists and many other supporters from various walks of life, to-date more than 10,500 have benefitted from the free of cost quality treatment at the Hospital.
In 2019, TIH collaborated with world's premier pediatric cancer research center – St. Jude Children's Research Hospital (SJRCH) – as one of their partner to work towards SJRCH's global efforts to increase access to healthcare services and improve quality of care to improve childhood cancer survival in Pakistan. TIH will also play an important role to influence and develop national policies to ensure the availability of better facilities to serve children affected with cancer.
Speaking at the occasion, Executive Director Medical Services and leading Pediatric Oncologist, Dr Muhammad Shamvil Ashraf said, 'Cancer is now one of the world's biggest healthcare challenges as every year millions of people die worldwide due to cancer.' In developed countries cancer is curable in 80% of children but In Pakistan almost 50% have no access to cancer treatment and majority cannot afford treatment expenses. To improve childhood cancer survival in Pakistan we need support of people from every walks of life.
CEO Indus Health Network, Dr Abdul Bari Khan, delivered vote of thanks to the participating golfers for making the event successful. Executive Director, Communications and Resource Development, Mr Mashhood Rizvi, also addressed at the event.
The game was played in Texas Scramble format. Winners-net were Nasrullah Sheikh and Abdullah Nasir. Winners- Gross were Daniyal Khan and Omar Khalid. Rashid Ahmed and Yaqoob Ahmed followed as runners up net. TIH Cancer survivors, Zainab and Laiba, presented the prizes to all the winners.
This year's annual golf tournament not only highlighted the efforts of The Indus Hospital's Pediatric Oncology services but also acknowledged the support of many influencers and supporters who have joined hands with Indus as the official ambassador for the Hospital.
Renowned actor Junaid Khan were presented the i-Indus Ambassador shield by Paediatric Cancer survivors, Dr Abdul Bari Khan, CEO Indus Health Network and other senior members of the management. The guest of honor presented the awards to the winners of the tournament.