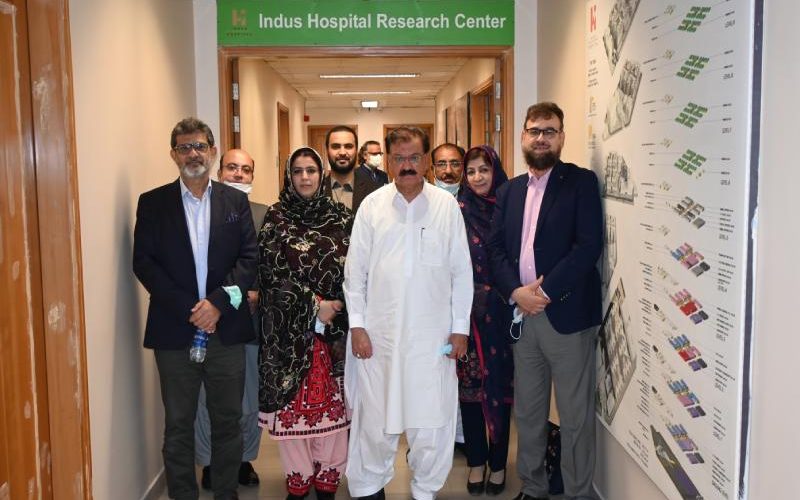 A delegation from the Government of Balochistan visited the Indus Hospital & Health Network's Korangi Campus, Karachi. Minister for Health, Government of Balochistan, Syed Ehsan Shah, Senator Naseema Ehsan; Dr. Tahira Kamal, Director Public Health Services, Balochistan; Faiz M. Barech, Deputy Program Manager, Balochistan Medical Support Program; and Dr. Ahmed Chief Epidemiologist Health Department, Balochistan was part of the delegation.
Dr. Abdul Bari Khan, Chief Executive Officer, Indus Hospital & Health Network; Dr. Shamvil Ashraf, Executive Director, IHHN and Dr. Lubna Mushtaq, Head of Quality and Monitoring, IHHN, welcomed the guest. Dr. Bari showed them the journey of IHHN through a presentation. The representatives of IHHN provided a detailed campus tour to the guest. The visitors appreciated the efforts of IHHN in improving the public health scenario of the country. The group also visited the construction site of the new hospital building.
During his welcome address, Dr. Bari appreciated the Government of Balochistan's efforts in improving the province's health indicators by collaborating with private partners like IHHN. Public-Private Partnerships are defined as institutional relationships between the government and the private sector to achieve a shared health goal based on a mutually agreed division of labor and resources.
IHHN's Malaria eradication program is being implemented in different districts of Balochistan. Dr. Bari also spoke about the recent collaboration where IHHN established a Pediatric Oncology Unit at Sheikh Khalifah Bin Zayyad Hospital, Quetta.
Syed Ehsan Shah also spoke at the event. He thanked the IHHN management for their cooperation and assured them of his support. He said that new initiatives should be taken to realize the goal of health for all and that the Government of Balochistan has a special focus on the healthcare sector.