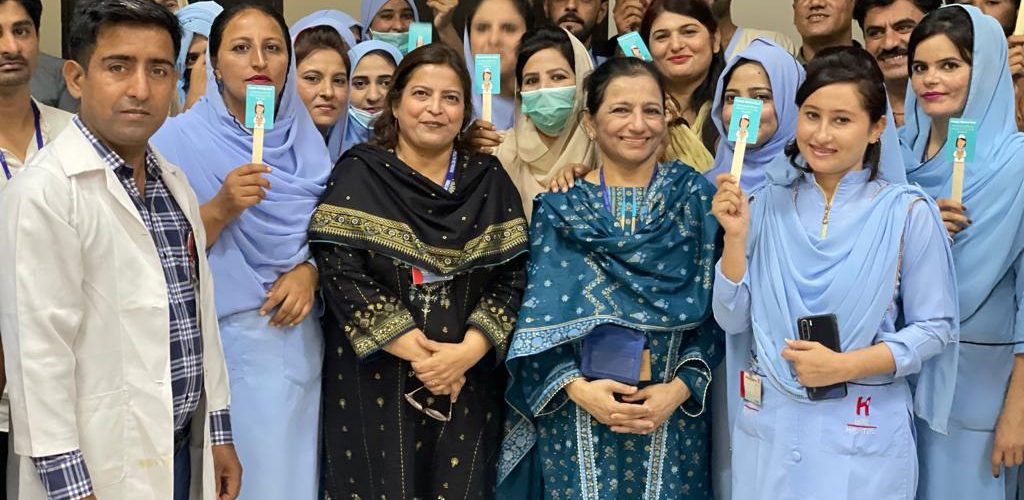 Badin, May 12, 2023 – The International Nursing Day & Midwives Day ceremony was held today at the DHQ Hospital Badin, where nursing staff and healthcare professionals gathered to celebrate the contributions of nurses to healthcare delivery.
The event was graced by the presence of the Director of Nursing Services Indus Hospital & Health Network Karachi Ms. Rashida Merchant, along with Senior Manager of Nursing Services Rozina Shazad Ramji and Head of Campus DHQ Badin Dr. Mohammad Akhlaque Khan. The highlight of the event was a poster competition, where nursing staff showcased their creativity and talent. The competition witnessed an overwhelming response, with participants highlighting the importance of nursing in healthcare delivery.
At the end of the competition, Hajiani Sharifa emerged as the first prize winner, and Mansoor Latif was awarded the second prize. Both winners were awarded gold and silver medals, respectively, for their outstanding work.
The ceremony concluded with a cake-cutting ceremony, where all speakers paid tribute to the nurses for their invaluable services to the healthcare sector. The speakers highlighted the importance of nurses in providing quality healthcare and acknowledged the hard work and dedication of nurses in ensuring the well-being of patients.
The Nursing & Midwives staff at DHQ Hospital Badin are an inspiration to all, and it is hoped that the event will encourage and motivate them to continue their excellent work in providing quality healthcare to patients in the years to come. The International Nursing Day ceremony was an excellent opportunity to recognize the contributions of nurses to healthcare delivery and to celebrate their hard work and dedication.