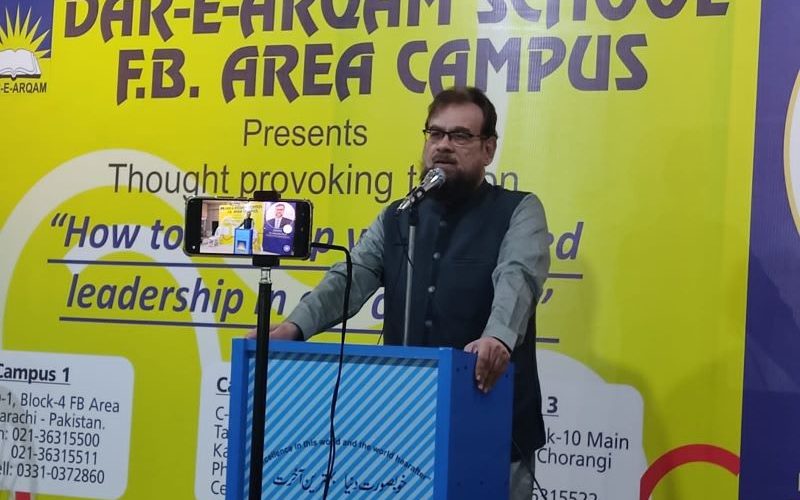 On January 21, 2023, Dr. Abdul Bari Khan, President of Indus Hospital & Health Network (IHHN), was invited as a chief guest speaker to Dar-e-Arqam Schools (DAS), F.B. Area Campus to deliver a thought-provoking speech: "How to develop value-based leadership in our children."
The event aimed to introduce influential leaders in Pakistan and highlight their valuable contributions. As the founder of IHHN – a nationwide healthcare network delivering free-of-cost, quality healthcare to more than 500,000 patients every month – Dr. Abdul Bari Khan was requested to speak to the students and staff of DAS in attendance and impart the valuable lessons learned through his career.
During his speech, Dr. Abdul Bari Khan chronicled his role in growing IHHN from a single 150-bed tertiary care hospital in Korangi, Karachi, into Pakistan's largest healthcare network in the private sector, delivering comprehensive primary, secondary & tertiary level care. Throughout it all, IHHN has been serving excellence in healthcare absolutely free to all patients, indiscriminate of their background.
Addressing the students, Dr. Abdul Bari Khan urged them to inculcate the qualities of persistence, compassion, kindness, and teamwork within themselves, with a focus on individual accountability. These are essential traits needed to effectively overcome life's challenges and become empowered change-makers who can lead Pakistan into a brighter and more progressive future.
About Dar-e-Arqam Schools (DAS)
Dar-e-Arqam Schools (DAS) is one of the fastest-growing school systems in Pakistan, with over 700 branches nationwide and more than 300,000 students enrolled. Since its establishment in 1991, DAS has been offering a unique blend of strong contemporary education and Islamic studies to create forward-thinking and compassionate leaders guided by strong morals, ethics, and an unrelenting faith in the Almighty (SAW).