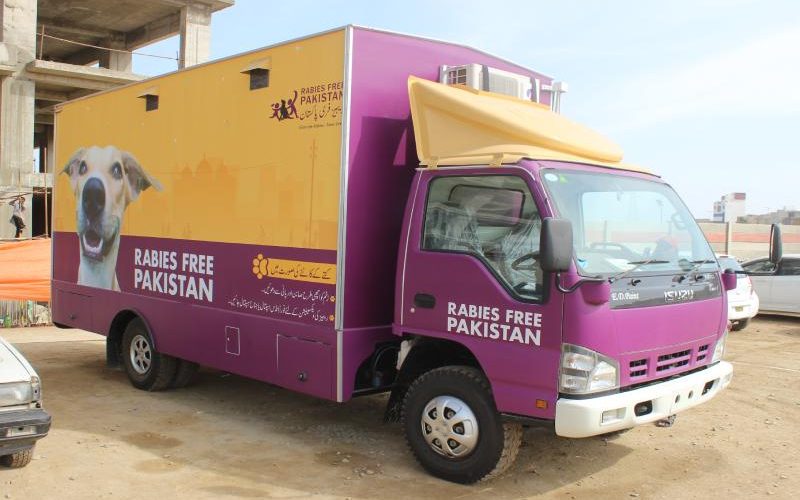 Karachi
The Indus Hospital's Rabies Free Pakistan program's first mobile animal sterilization unit was inaugurated on February 26, 2020. The ceremony took place at the Korangi Campus. Dr. Bernadette Abela-Ridder, Team Leader of WHO's Neglected Zoonoses Diseases unit inaugurated the mobile unit.
Dr. Abdul Bari Khan, Chief Executive Officer, Indus Health Network (IHN); Dr. Naseem Salahuddin, Head of Infectious Diseases, the Indus Hospital; Saleem Tabani, member of the Board, IHN; Mashhood Rizvi, Executive Director, IHN; Dr. Naila Baig Ansari; Dr. Farhana Amanuallah and other faculty members attended the event.
Dr. Naseem briefed the audience about the Rabies Free Pakistan. She said that since the beginning of program, over 34,800 patients have been treated for rabies according to WHO recommendations; 20,000 dogs have been vaccinated; and 3000 dogs have been spayed/ neutered. Dr. Bari thanked Dr. Bernadette for her support and applauded the Rabies Free Pakistan's team for their determination. In her address, Dr. Bernadette appreciated the efforts of the Rabies Free Program and its impact on animal and humans. She told that the WHO has facilitated TIH in establishing the program and has provided 50,000 doses of animal vaccine. She assured of her continuous cooperation.
The mobile unit is one-of-a-kind initiative in Pakistan. The mobile clinic is donated by Ghandhara Nissan. The donor completely refurbished the van to make it function like a surgical unit. The unit will carry out surgeries to sterilize street dogs.  The van is equipped with all necessary facilities. It has two surgical tables, washing area, supply of medicine. The unit would be able to carry out approximately 24 surgeries daily. The van will move to various pre-selected locations daily; dogs will be caught by the team members and two experienced veterinary doctors will perform the animal birth control procedures.