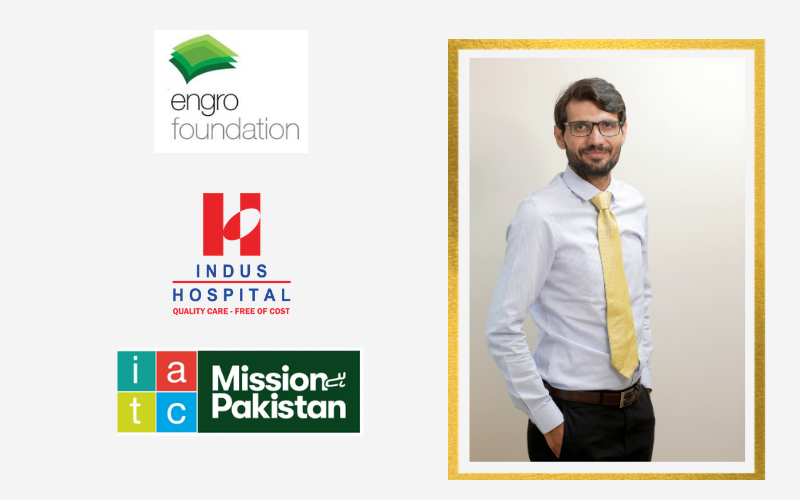 I AM THE CHANGE award, a flagship initiative by Engro Foundation, pays tribute to local change-makers who work tirelessly towards improving the living standards of the poorest members of Pakistan. This year's awards aimed to recognize and reward the incredible work done by doctors, healthcare workers and field staff, who have served the people of Pakistan during the COVID-19 pandemic.
The Indus Hospital (TIH) proudly heralds the success of Dr. Ghazanfar Saleem, Consultant ND and Head of Department, Emergency Medicine, TIH; who has been awarded the Engro Foundation's 'I AM THE CHANGE (IATC)' Impact Award 2020 for his invaluable services during the COVID-19 Pandemic.
The Indus Hospital has been one of the leading healthcare institutions fighting the pandemic from the forefront since its onset in Pakistan. This has only been possible due to the dedication, diligence, and selfless services of doctors such as Ghazanfar Saleem. He has always gone above and beyond the call of duty and is available on premises and on call 24/7, even now as the second wave of the pandemic has severely hit the country.
Taking complete ownership of the Emergency Medicine operations, Dr. Ghazanfar expanded the Emergency Area dedicated to COVID-19 to a total of 22 beds. He ensured staff and patient safety by installation of appropriate ventilation mechanisms that control the spread of COVID within the Emergency Room, modifying the Emergency Room into a Respiratory ER and a non-Respiratory ER, each having 11 beds. He guaranteed the availability of equipment, including ventilators and monitors collaborating closely with other hospitals as well as Indus' Supply Chain and Biomedical departments. Another notable achievement was the management of large volumes of patients coming to the ER. Through proper planning, he was able to benefit more patients on the limited number of beds in the COVID-19 ER. Till date, the Emergency Department has dealt with more than 5,000 patients. Dr.Ghazanfar Saleem is the embodiment of true hard work and selflessness. He commends his colleagues and peers who are fighting this pandemic day and night at Indus Health Network and other hospitals across the country.
Indus Health Network's doctors, nurses, and other healthcare professionals continue to change the game and raise the bar even higher and it is a matter of great pride to have them recognized and appreciated through such platforms.