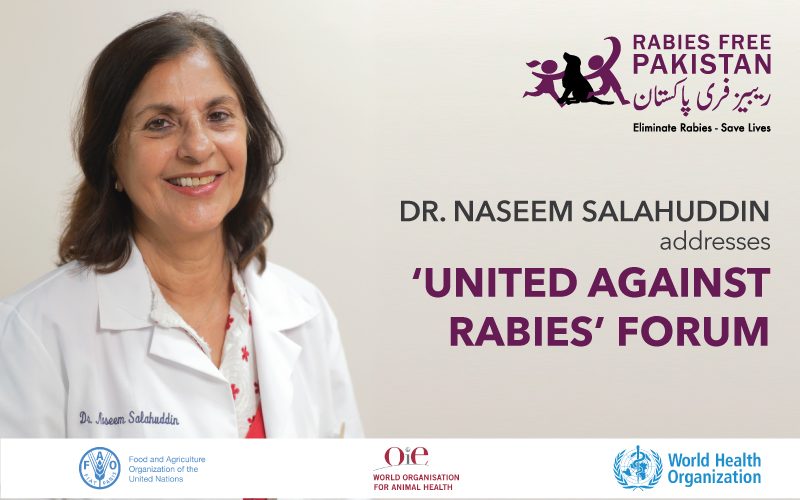 Dr. Naseem Salahuddin, Head of Department of Infectious Diseases, The Indus Hospital, and "Rabies Free Pakistan" campaign, was honored to address the United Against Rabies (UAR) forum on Tuesday.
The Director Generals of World Health Organization (WHO), World Organization for Animal Health (OIE) and Food and Agriculture Organization (FAO) and other international speakers also addressed the forum. The objective of the online webinar in Geneva was to formulate a Global Strategic Plan to end human deaths from dog-mediated rabies by 2030.
"To make rabies elimination a reality by 2030, we need all sectors to join forces – National and Local governments of both human and animal health, research, industry, private sector, and civil society, to eliminate rabies in Pakistan", Dr. Naseem said while addressing the forum.
"My personal struggle with rabies elimination in Pakistan goes back to over two decades. It started with the National Institute of Health (NIH), advising them to replace the antiquated, ineffective and often harmful Nerve Tissue Vaccine (Semple) with modern cell culture vaccine," she shared, adding that she was successful in convincing NIH in finally removing it in 2015.
Speaking about her experience at The Indus Hospital, Dr. Naseem said the hospital encouraged and facilitated her to start the Rabies Prevention Center, which remains the Center of Excellence for rabies prevention, as well as for training health care workers from other centers in the city and province for post exposure prophylaxis (PEP). The common man, distressed by the growing population of stray dogs both in urban and rural areas, demands their mass killing. The solution, she said, is the One Health approach, which will not only reduce population of the strays humanely over time, but also eliminate rabies.
In 2018, The Indus Hospital Research Center conceived and implemented "Rabies Free Pakistan" where the rabies team vaccinates against rabies and neuters/spays street animals to help reduce their population.
Dr. Naseem has been a member of WHO Expert Advisory Panel for Rabies since 2004, as well as of WHO Neglected Tropical Diseases (NTD), and has regularly been a part of their discussions and meetings internationally.