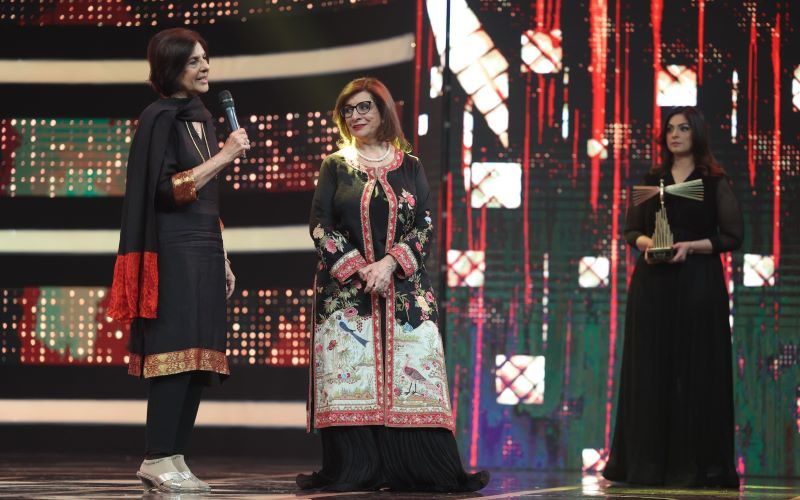 Indus Hospital & Health Network (IHHN) proudly acknowledges the remarkable achievements of Dr. Naseem Salahuddin, who was recently honored at the HUM Women Leaders Awards (HWLA).
As one of the most coveted and prestigious awards in Pakistan, the HWLA aims to acknowledge and honor the remarkable contributions of iconic Pakistani women for their work in diplomacy, social work, education, healthcare, human rights, journalism, and women's rights. President Hum Network Limited (HNL) Sultana Siddiqui presented the award to Dr. Salahuddin. Within Indus Hospital & Health Network, Dr. Salahuddin is considered one of the Network's most forward-thinking leaders
The two most important areas where Dr. Naseem Salahuddin has impacted are Infectious Diseases (ID) and Education. Ironically, there was no other ID specialist in the field in a country replete with IDs. Dr. Naseem, through her unstinting efforts, pioneered this important discipline. She introduced the ID fellowship program, founded the professional ID society and the ID journal. She publishes scholarly articles and educates the public through print and electronic media articles. She is recognized internationally for her relentless battle against the fatal disease rabies and complicated tuberculosis. Today ID is an established and much sought after specialty.
Starting in her home premises, she spread literacy to over 50,000 forgotten children of Karachi's kachi abadis through home schools and a mobile bus school, across three decades of organized effort. Many of the students, mostly girls, are opting to study further, working as teachers, nurses, and beauticians, and delaying marriage. These young women are empowered through education, and will emancipate the next generation!
Dr. Naseem Salahuddin is the author of If Stones Could Speak (2018), Among my Own- the Untold Stories of my People (2022).
The award ceremony took place on February 20, 2023, at the prestigious Jinnah Convention Centre in Islamabad. The event was presided by distinguished guests, including Dr. Arif Alvi, the President of the Islamic Republic of Pakistan, and attended by the Deputy High Commissioner of Australia, the High Commissioner of Bangladesh, MNAs, anchorpersons, and socialites. All gathered to celebrate Dr. Naseem Salahuddin and the eight other national and international recipients of the award.