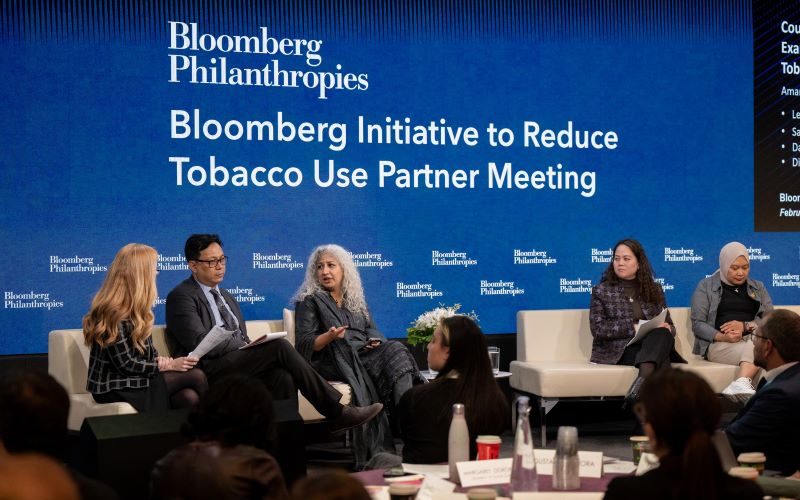 Dr. Saima Saeed, Director of the Lung Health Program at Indus Hospital & Health Network (IHHN), attended the 2023 Bloomberg Initiative to Reduce Tobacco-Use Partner Meeting that took place on February 1-2, 2023, at Bloomberg headquarters in New York, USA.
The partner meeting aimed to bring together all partners of the Bloomberg Philanthropies, such as Campaign for Tobacco Free Kids (CTFK), Vital Strategies, International Union against TB and Lung Disease, and Centre for Disease Control, amongst others. Its objective was to celebrate successes and identify challenges in their common goal of curbing tobacco use worldwide through policy change, community advocacy, and exposing tobacco industry tactics. All partner organizations were in attendance as well as chosen grantees, of which IHHN was one.
At the event, Dr. Saima was given the opportunity to present the efforts of Voices Against Tobacco, a platform developed after grant-funding by the Bloomberg Initiative through CTFK. She shared their contributions to advocacy efforts taken at the school, community, and government levels which led to the first-ever tobacco tax rise in Pakistan in 4 years.
Dr. Saima Saeed, trained in undergraduate and postgraduate medicine in the United Kingdom and has now worked in Pakistan for over 6 years. As a consultant pulmonologist, she works both as Faculty in the Medical Directorate, and in the Community Health Directorate. She has developed the Lung Health Program which focuses on the prevention, diagnosis, and management of chronic lung disease in an interdisciplinary and holistic way.
"It was an honor and a pleasure to present our work at an international forum such as this. Chronic lung disease is an under-recognized condition, but the risk factors for it are plentiful. About 20% of Pakistanis use tobacco. Many others are exposed to dangerous levels of air pollution. Addressing preventive factors should, in turn, improve diagnosis and management of these diseases and, in the long run, reduce their impact."
Indus Hospital & Health Network would like to thank Dr. Saima Saeed and Bloomberg Philanthropies for raising awareness of the harmful impacts of tobacco on people's health and livelihoods. Events like these are necessary to tackle the health and economic issues caused by tobacco and nicotine products and drive a concerted effort into ways to reduce tobacco use, especially in low-income countries.
About: Voices Against Tobacco
In response to the urgent need for tobacco control in Pakistan, Indus Hospital & Health Network (IHHN) launched its Voices Against Tobacco (VAT) program in 2021 with the aim to create a dialogue and meaningful change to improve tobacco control measures in the country. VAT has worked across Sindh and Punjab to engage the youth to promote positive cultural change amongst their peers and communities by empowering them to take ownership of their health and future.
In collaboration with the Campaign for Tobacco-Free Kids (CTFK), VAT is now focusing on investing in marginalized communities with limited access to information and resources. In addition to this, VAT is also working on improving tobacco control policies through youth and community advocacy.
Last year, VAT introduced a petition to ask for a 30% tax increase on tobacco products. This petition garnered more than 8,000 signatures from communities all across Sindh and Punjab.
This year VAT has launched a new petition to ask for a ban on all novel tobacco and nicotine products in Pakistan to protect the youth and adolescents from addiction and cognitive damage.
If you would like to sign it, please visit https://indushospital.org.pk/voices-against-tobacco/