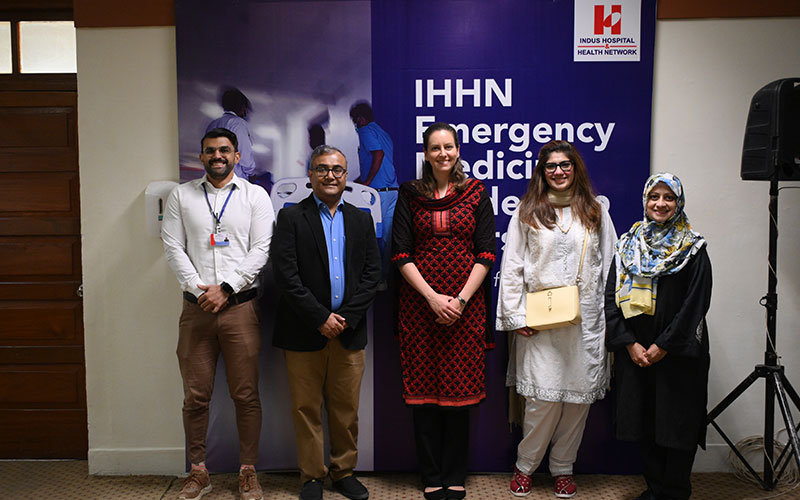 The Emergency Department (ED) at IHHN, Korangi Campus, is conducting a three-day course on Emergency Medicine Leadership (EML) from October 26-28, 2022. The objective of the course is to familiarize the participants with the various aspects of ED leadership through lectures from subject experts and peer mentorship. The first day of the course was fast-paced and focused on laying the foundation for the essentials of Emergency Department (ED) Leadership.
Day one started with a presentation from the course director, Dr. Megan Rybarczyk from the University of Pennsylvania, who gave a 360-degree view of the ED. This was followed by a talk from Dr. Saima Ali, Head of the Department – Emergency Services (Adult), IHHN; Ms. Qurat ul Ain Maroof, Clinical Services Management, IHHN; and Mr. Abid Ali, Nursing, IHHN; who spoke about the importance of proper staffing models.
Dr. Sean Kivlehan from Brigham and Women's Hospital, Dr. Adeel Khatri, Consultant, Emergency Medicine, IHHN and Mr. Tariq Aziz, Nursing, IHHN, emphasized the importance of triage models and interventions. Dr. Jon Bar and Ms. Amanda Rudolph's recorded presentations highlighted the importance of disaster planning and the role of ED nursing for efficient function.
Mr. Imran Jamal gave a comprehensive breakdown of the reasons for ED crowding and was followed by Dr. Sama Mukhtar and Dr. Ali Kashan, who spoke about hands-off communication and the role of EMS in safe patient referral. The day also saw the participants working enthusiastically on their group presentation, building on shared knowledge and designing efficient emergency departments.
The course includes a diverse set of participants like Emergency Medicine physicians, nurses, and administrators from across Pakistan, with unique representation from both public and private sector hospitals.
learn more: Highlights From IHHN's Emergency Medicine Leadership Course | (indushospital.org.pk)