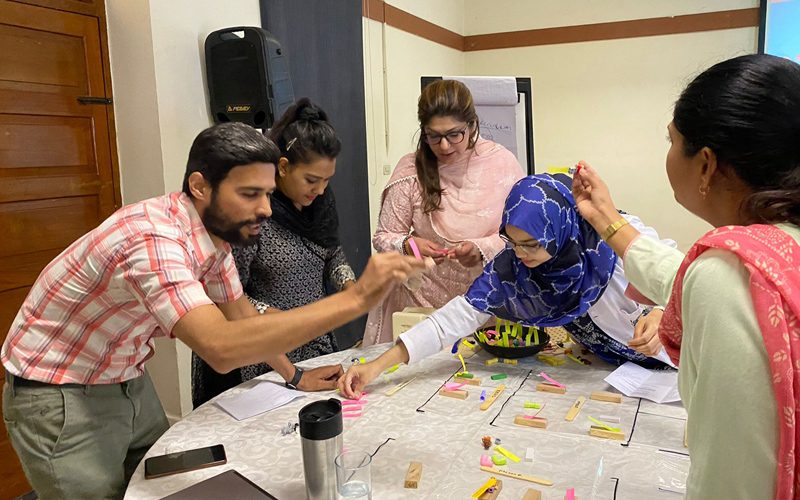 The Emergency Department (ED) at Indus Hospital & Health Network (IHHN), Korangi Campus, conducted a three-day course on Emergency Medicine Leadership (EML) from October 26-28, 2022. The third day of the course kicked off with a brief recap of the past sessions led by Dr. Saima Ali, Head of the Department – Emergency Services (Adult). This was followed by a series of lectures and group activities.
Dr. M. Bilal Hassan, Program Coordinator for F-PEM, led an interactive session on the professional and responsible use of social media in a leadership setting. This was followed by an intense two-hour disaster management session whereby the candidates took part in a simulated mass casualty incident. Candidates were divided into 6 teams, and each team had to manage the respective situation with a focus on the following: mitigation, preparedness, response, and recovery.
Dr. Syed Ghazanfar Saleem, Chair of IHHN's Emergency Service Line, led a session on ED – leadership. He focused on the qualities of a good leader and how to lead by example. This was followed by a recorded lecture by Dr. Mulinda Nyrinda on how to find and develop your own leadership team.
In the latter half of the day, candidates were divided into six teams, and each team gave a presentation. The team with the best presentation was given an award by the attending faculty.
The program concluded with closing remarks from Dr. Zafar Zaidi, CEO, IHHN; Dr. Megan Rybarcyzk, University of Pennsylvania; Dr. Lubna Mushtaq, Head of Quality and Monitoring Directorate, IHHN; and Dr. Muhammad Shamvil Ashraf, Executive Director, IHHN.
learn more: Highlights From IHHN's Emergency Medicine Leadership Course | (indushospital.org.pk)