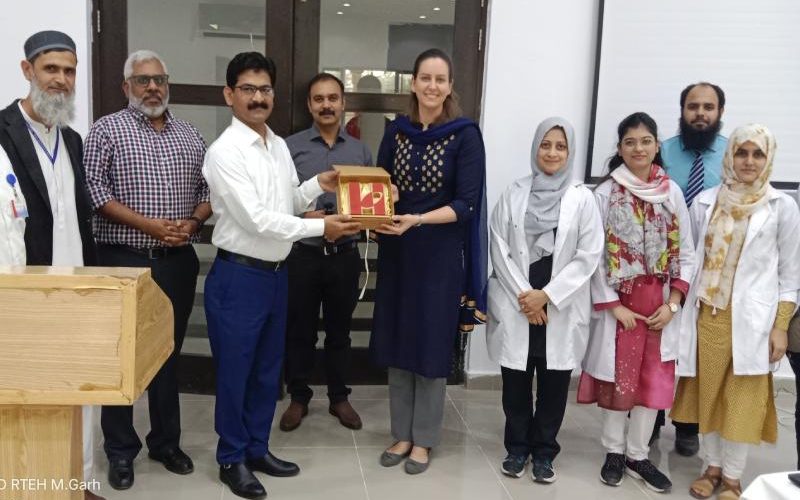 A five-day Basic Emergency Course was conducted at Recep Tayyip Erdogan Hospital (RTEH), Muzaffargarh from October 30 – November 3, 2022. The objective of the course was to train healthcare providers at RTEH and surrounding hospitals so that they can save more lives by adopting effective emergency medicine techniques that work within their limited resources.
The course was led by Dr. Megan Rybarczyk and her team members Dr. Saima Ali, Dr. Adil Akhtar, and Dr. Nayab Khan. It included 6 trainers and 36 participants.
On concluding the session, Dr. Megan Rybarczyk said that she is grateful to RTEH, Muzaffargarh, thanks to whom she got the opportunity to provide such training to doctors, nurses, and other healthcare providers. She appreciated the hospital's management and expressed her happiness at their hospitality and care. Dr. Rybarczyk was presented with
Dr. Irfan Javed, Head of Campus, RTEH, said that the administration of RTEH is thankful to the trainers who participated in this training.  Physicians learning the techniques of dealing with medical emergencies with limited resources from this training should implement it in their institutions as well as transmit this training impact to other medical professionals in their circle.
Waqar Ahmed, Head of Operations, said that "organizing this type of training is an effort to fulfill Indus Hospital's vision of excellence in health services free for all to please Allah Subhanahu Ta'ala."