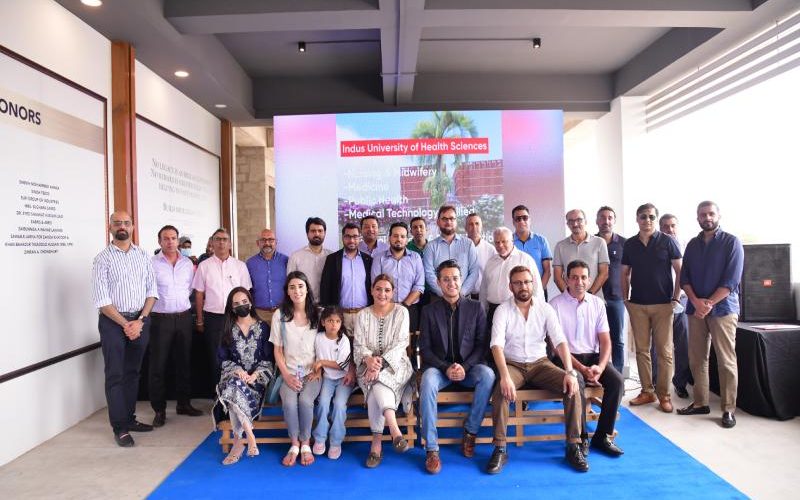 The Entrepreneurs' Organization (EO) is a global, peer-to-peer network of more than 14,000+ like-minded leaders across 198 chapters in 61 countries. Founded in 1987, EO is the catalyst that enables leading entrepreneurs to learn and grow, leading to greater success in business and beyond. The Karachi EO chapter was founded in 2010 and presently has 65 members. Indus Hospital & Health Network (IHHN) and EO have entered into a MoU which identifies EO's commitment towards collaborating for fundraising campaigns, holding networking events on behalf of IHHN and introducing IHHN to new corporates. In collaboration with EO, IHHN shall also form the New Leaders of Today Club which will provide a platform to enterprising young leaders and entrepreneurs to ensure the sustainability and survival of IHHN and its value-system. As part of the Club, members will raise awareness about IHHN, create connections for IHHN through friends and colleagues and ensure the sustainability of IHHN.
On Saturday, July 02 2022, IHHN and EO hosted over 50 EO members and their families at IHHN's Korangi Campus, Karachi. Guests received a detailed tour of the existing hospital and particularly the 85-bed Pediatric Oncology Unit which is the largest in Pakistan. Here, guests interacted with and spread hope, love and compassion to young children suffering from cancer and other diseases, along with their families. Following this, guests attended a lunch by both EO and IHHN and IHHN's New Hospital Building in Korangi, Karachi. Once complete, this will be Pakistan's private-sectors largest free-of-cost hospital, made possible only through conscientious partners such as EO. Senior management and members of IHHN's Board of Director's were also in attendance. We are sure that this landmark partnership with a dignified organization such as EO will be fruitful for IHHN and its noble cause.
The event was hosted by IHHN Ambassador and renowned anchor, Syed Shafaat Ali. Executive Director, Communication and Resource Development, Syed Mashhood Rizvi, gave a presentation to the guests about the reasons to support the cause of IHHN.
Chief Executive Officer, IHHN, Dr. Abdul Bari Khan shared spoke about the journey and establishment of Pakistan's largest free-of-cost private sector hospital. He congratulated the leaders of both organizations for their exceptional work in making this ironclad partnership.
President, EO, Jarjees Sejja said, "EO is all about experience sharing. I am sure that the experience we have all shared today at Indus will stay with us for a very very long time.
EO is always ready to give. Today, we wanted to give our time and I am so thankful to the EO family for giving their time to Indus as it truly deserves it
The children present here today are our future and I am sure they will be the ones to take Indus forward into the future".
Chairman of the Board, IHHN, Abdul Karim Paracha, while speaking at the occasion said, "Indus needs the youth of Pakistan, some of which is present today, who can complete IHHN's thinking, it's vision and it's mission".
About the New Hospital Building:
Indus Hospital & Health Network (IHHN), Korangi Campus, Karachi has been experiencing an increase in the demand of its free and quality services due its population growth and unstable economic condition in the country. This situation has resulted in an acute shortage of capacity at the hospital. Consequently, patients are experiencing long waiting times, delays in elective surgeries and are being referred out to other facilities. To address this, IHHN is building the largest free of charge private hospital in Pakistan.
About IHHN:
The Indus Hospital & Health Network provides indiscriminate, quality healthcare free-of-cost through its countrywide network of hospitals and health facilities in Pakistan. IHHN has also established multiple mobile clinics and community healthcare facilities across the country.