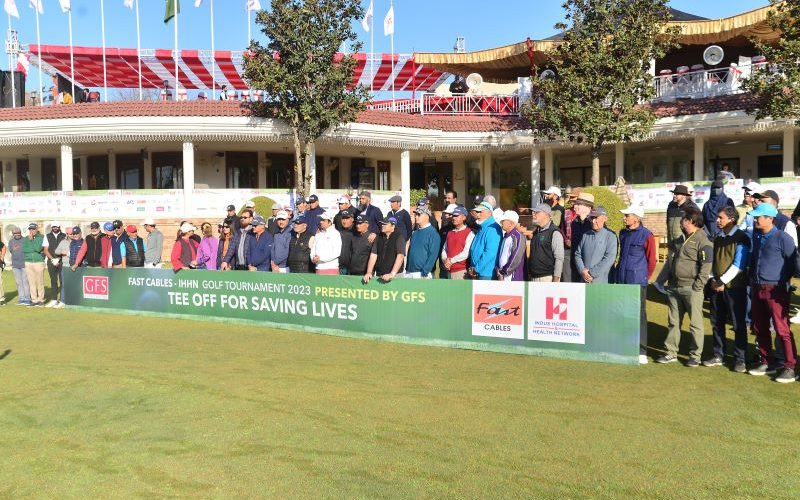 A large community of golfers, including members from Pakistan's leading corporations and various consulates, came together to play Indus Hospital & Health Network's Fast Cables-IHHN Golf Tournament 2023, presented by GFS, on February 12, 2023, at the Islamabad club.
All gathered to help raise funds to support the Indus Hospital, Korangi Campus – IHHN's flagship hospital – as it continues to expand and deliver free-of-cost, comprehensive, premium-quality healthcare to underserved and underprivileged communities across Pakistan. The event is the second IHHN Golf Tournament to take place in Islamabad.
Since 2007, IHHN has evolved from a 150-bed hospital in Korangi into Pakistan's largest nationwide healthcare network in the private sector. Presently the Network comprises 15 hospitals, 4 regional blood centers, 4 physical rehabilitation centers, 36 primary care sites, and a multitude of public health initiatives. IHHN is proudly serving excellence in healthcare to over 500,000 patients in need every month.
Today, as the demand for affordable healthcare is rising along with Pakistan's burden of disease, patient volumes at Indus Hospital, Korangi Campus, have increased exponentially, resulting in increased waiting times and over-stretched facility resources. In response, IHHN has launched a remarkable hospital expansion project at the Korangi Campus, which will convert the 300-bed facility into a 1350-bed state-of-the-art hospital providing enhanced services whilst maintaining high standards of patient care.
Addressing the distinguished guests, Dr. Abdul Bari Khan, President of IHHN, said,
"Indus Hospital & Health Network is grateful for the strong backing of its generous donors and steadfast public & private sector partnerships, which have enabled Indus to uphold its mission of free-of-cost quality care for all, especially during times of national crisis and economic decline. We look forward to future collaborations which will help Indus expand its services to every nook and corner of Pakistan."
Mashhood Rizvi, Executive Director, Communications & Resource Development Directorate, briefed the distinguished guests on IHHN's new initiative of the Corporate Ambassador Program and League of 100,000 Heroes.
The Corporate Ambassadors Program is a unique initiative that aims to create a sustainable source of recurring donations that is the most viable solution to uphold the Network's mission of providing free-of-cost healthcare to all.
Presently, every month IHHN needs approximately PKR 1 billion to treat the growing number of patients across the Network. By creating a league of 100K- heroes, each of whom donates PKR 10K each month, IHHN will be able to meet this goal and uphold its mission of Healthcare for All. 100K league members will be able to serve life-saving treatment to approximately six million patients yearly.
Pervaiz Ahmed, Executive Director-Business Development, Communication & Resource Generation Directorate, IHHN, delivered closing remarks and thanked the golfing community in Islamabad and the title sponsors – Fast Cables and GFS Builders & Developers; and other corporate sponsors for making the Fast Cables-IHHN Golf Tournament a resounding success.
The annual IHHN Golf Tournament is Indus Hospital & Health Network's flagship sports event which was started in 2016. Since then, the event has established a strong standing in the corporate sector and golfing community and is providing these groups with a remarkable opportunity to lead Pakistan into a healthier future.  The IHHN golf tournaments are now held annually in Karachi, Lahore, and Islamabad.
92 golfers played the game in a two-ball scramble format.
RESULTS:
Closest to Pin Hole No. 5: Sardar Yousaf Durrani 7FT
Closest to Pin Hole No. 12: AVM Azam Khan 9FT
Longest Drive Hole 18: Ali Bangash 354 YDS
Net Runner-up: Saqib Meyer & Illum Khan 62 B C
Net Winner: Ibrar Khan & Brig. Farooq 58.5 B C
Gross Runner-up: Lt Gen. Qazi Ikram & Brig. Sajid Akram 66
Gross Winner: Bilal Tariq Khan & Ehtisham Abbasi 62
Special Prizes Hole in One: Lt Gen. Qazi M. Ikram
About Fast Cables
Since its inception in 1985, Fast Cables Limited has emerged as Pakistan's leading and most trusted electrical cable manufacturer. At Fast Cables, quality is the first priority, combined with superior customer service and affordability. This emphasis on quality has made Fast Cables one of the most reliable brands in the Cable Industry of Pakistan and the choice of leading electrical consultants, engineers, and architects in the country.
About GFS Builders & Developers
GFS Builders and developers are one of the leading and diversified builders well known for the different projects introduced within different cities of Pakistan. The organization believes in delivering houses, societies, and community-building projects, and facilitating state-of-the-art projects which meet the high standards of authenticity and unmatched quality held by their valued clients. The organization's goal is to be the new face of Pakistan's building and construction industry and deliver new concepts of working backed by the remarkable strength of their employees, associates, engineers, architects, etc.