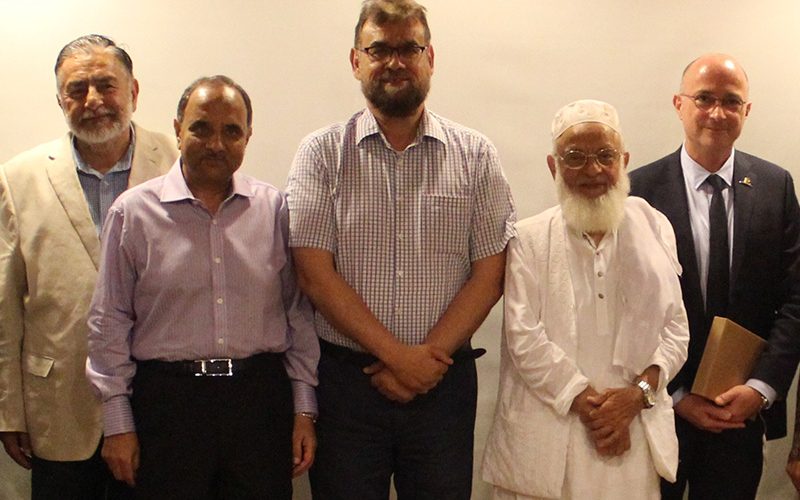 St. Jude Children's Research Hospital (SJCRH), Memphis, Tennessee, USA is one of the world's premier paediatric cancer research centres. Senior representatives from St. Jude's visited The Indus Hospital, Karachi on April 22, 2019 to sign a Memorandum of Agreement.
The collaboration will lead to the development of centres of excellence at national and south-Asian level. These centres will work towards the global efforts to increase access to healthcare services and will improve quality of care to reduce childhood cancer.
From Pakistan, Indus will be one of the collaborating partners in SJCRH's initiatives of Global Paediatric Medicine. Under the partnership, Indus will play an important role in Pakistan and in the region to influence and develop national policies to ensure better facilities to serve children affected with cancer.
The team comprising of Mr Carlos Rodriguez-Galindo, MD, Executive Vice President, Chair, Department of Global Paediatric Medicine, SJCRH; Dr Sima Jeha, Regional Director of Eastern Mediterranean Region, International Outreach Program, SJCRH; and Ms Lisa J. Krull, Project Coordinator, International Outreach Program, Eastern Mediterranean Region, SJCRH – met with Dr Abdul Bari Khan, Chief Executive Officer, Indus Health Network; Dr Shamvil Ashraf, Executive Director, Medical Services IHN. The team visited the Paediatric Oncology Department – met with the patients and the team managing the ward and patient services. The team also visited The Indus Hospital Blood Center and The Indus Hospital Research Center.
St. Jude Children's Research Hospital is the first WHO Collaborating Center for Childhood Cancer. Its mission is to find cures for children with cancer and other catastrophic diseases through research and treatment. Partnering with WHO, SJCRH aims at transforming cancer care worldwide to cure at least 60% of children with six of the most common types of cancer by 2030.
Since 2014 Indus Hospital has been collaborating with SJCRH and TIH's paediatric oncologists and other specialists have attended a few distant learning courses on brain oncology and infectious disease.
Future collaboration projects would cover development, training and management of Paediatric Infectious Diseases; Paediatric Intensive Care; Cancer Registry; Health Systems Management; Research; and Nursing.