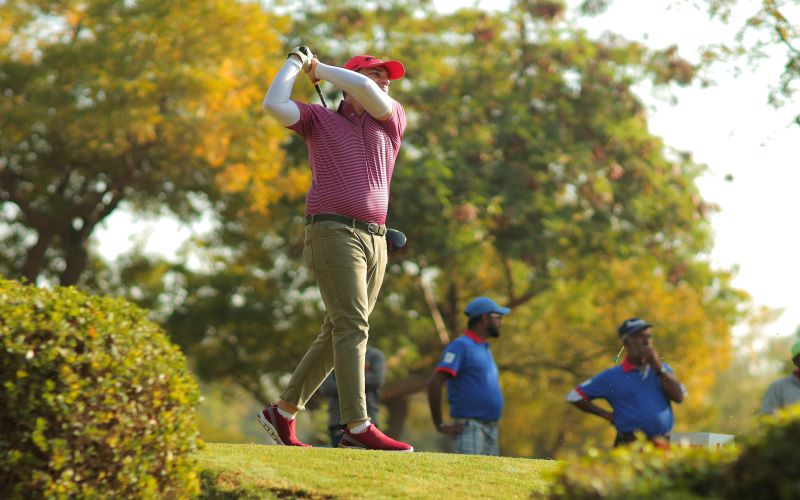 A large community of golfers and corporates joined hands to play IHHN's 8th GFS-IHHN Golf Tournament 2023, powered by Fast Cables, on February 5, 2023, at Karachi Golf Club, supporting the Childhood Cancer Services of Indus Hospital & Health Network.
Indus Hospital's Pediatric Oncology services, a dedicated 85-bed facility started in 2014, comprises out-patient clinics, general wards, an oncology day care unit, a dedicated emergency unit, a covered outdoor play area, psycho-social and counseling services, and a hospital-based school 'Indus Kay Sitaray'. Indus has also started satellite pediatric oncology clinics at District Headquarter Hospital, Badin in Sindh, and Sheikh Khalifah Bin Zayd Hospital in Balochistan to facilitate patients for early diagnosis and patients on maintenance. With a dedicated team of healthcare professionals and volunteers – including students, artists and many other supporters from various walks of life, to-date more than 10,600 have benefitted from the free of cost quality treatment at the Hospital.
To improve the childhood cancer survival rate in Pakistan, IHHN collaborated with the world's premier pediatric cancer research center – St. Jude Children's Research Hospital (SJCRH) – as one of their partners to work towards SJCRH's global efforts to increase access to pediatric oncology services across Pakistan. IHHN also strives to play an important role to influence and develop national policies to ensure the availability of better facilities to serve children affected with cancer.
Speaking at the event, Mashhood Rizvi, Executive Director, Communications & Resource Development Directorate, thanked the golfers for supporting IHHN. He also briefed them about IHHN's new initiative of the Corporate Ambassador Program and League of 100,000 Heroes.
The Corporate Ambassadors Program is a one-of-a-kind initiative that aims to create a sustainable source of recurring donations that is the most viable solution to uphold the Network's mission of providing free-of-cost healthcare to all.
Presently, every month IHHN needs approximately PKR 1 billion to treat the growing number of patients across the Network. By creating a league of 100K- heroes, each of who contributes PKR 10K each month, IHHN will be able to meet this goal and uphold its mission of Healthcare for All. 100K league members will be able to serve life-saving treatment to approximately six million patients yearly.
President of Indus Hospital & Health Network, Dr. Abdul Bari Khan, delivered a vote of thanks to the participating golfers and the premium partners – GFS Builders & Developers and Fast Cables; and other corporate sponsors for making the event successful.
The annual IHHN Golf Tournament is Indus Hospital & Health Network's flagship sports event which was started in 2016. Since then, the event has established a strong standing in the corporate sector and golfing community and is providing these groups with a remarkable opportunity to lead Pakistan's into a healthier future.  The IHHN golf tournaments are now held annually in Karachi, Lahore, and Islamabad.
The game was played by 124 golfers in Texas Shamble format.
RESULTS:
Closest to Pin: Zahid Khan
Closest to Pin: Arsalan S Khan
Longest Drive: Omar Intesar
Runner-up Net: Imran Sultan
Runner-up Gross: Azhar Abbas
Winner Net: Zulfiqar Khan
Winner Gross: Omar Khalid
2nd Runner-up Team Net: Vice Admiral Khan Hasham, CDRE Ghazanfar, CDRE Abdul Rehman, Lt CDR Irfan Shahid
Runner-up team Net: Talal Javed, Moazzam Saleem, M. Shahid Sattar, Taha Afzal
Winner Team Net: Bilal Hussain Khan, Hamza Zahid Khan, Dastagir Peracha, Nadeem Arif.
About GFS Builders & Developers
GFS Builders and developers are one of the leading and diversified builders well known for the different projects introduced within different cities of Pakistan. The organization believes in delivering houses, societies, and community-building projects, and facilitating state-of-the-art projects which meet the high standards of authenticity and unmatched quality held by their valued clients. The organization's goal is to be the new face of Pakistan's building and construction industry and deliver new concepts of working backed by the remarkable strength of their employees, associates, engineers, architects, etc.
About Fast Cables
Since its inception in 1985, Fast Cables Limited has emerged as Pakistan's leading and most trusted electrical cable manufacturer. At Fast Cables, quality is the first priority, combined with superior customer service and affordability. This emphasis on quality has made Fast Cables one of the most reliable brands in the Cable Industry of Pakistan and the choice of leading electrical consultants, engineers, and architects in the country.
About Indus Hospital & Health Network
Indus Hospital and Health Network is Pakistan's largest healthcare network in the private sector, comprising fifteen hospitals, four regional blood centers, four physical rehabilitation centers, 36 primary care sites, and multiple public health initiatives nationwide. The Network provides free-of-cost, quality healthcare to all patients and serves approximately 500,000 people every month.
A notable service line in IHHN's medical directorate is its multidisciplinary Pediatric Oncology services. Presently, IHHN's Pediatric Oncology Unit is a center of excellence and is one of the largest childhood cancer units in the region. It receives patients not only from all over Pakistan but from other countries too, such as Afghanistan. To date, we have treated over 12,000 children for cancer and blood diseases.