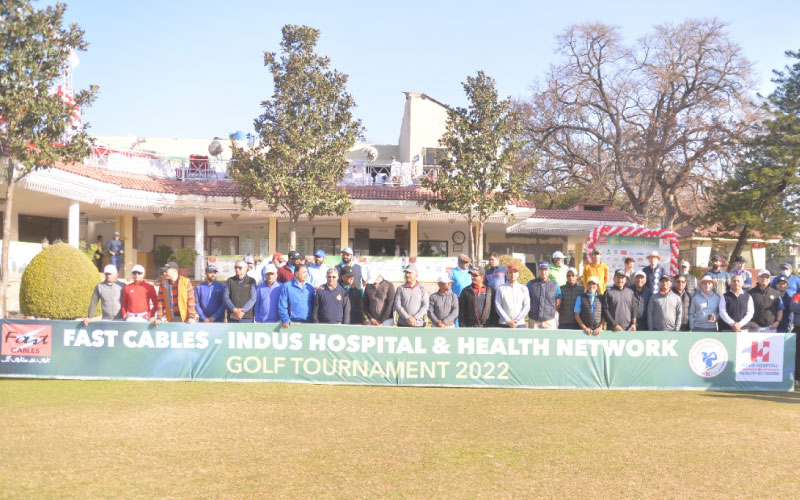 The Indus Hospital & Health Network (IHHN) hosted Fast Cables-IHHN Golf Tournament in Islamabad on February 20, 2022, at the Islamabad Golf Club. Ninety-six distinguished Pakistani and international golfers from various corporate companies, members of different consulates, and individuals participated in the event. The inaugural tournament of Islamabad followed the blueprint of the successful events held in Karachi, Lahore, UK, and Canada.
Syed Mashhood Rizvi, Executive Director, Communications & Resource Development Directorate, IHHN briefed the golfers and the notable guests that the Network is currently serving 450,000 patients per month through its network of 13 hospitals (5 are owned and managed by IHHN, while the Network only manages eight under the umbrella of Public-Private Partnership); 4 regional blood centers; 4 physical rehabilitation centers; primary care program and public health initiatives; and Pakistan's largest pediatric oncology unit at its flagship hospital in Karachi.
Thanking the golfing community in Islamabad, Dr. Abdul Bari Khan, CEO of Indus Hospital & Health Network, said, "Our vision is to create an excellence-driven comprehensive, compassionate, free of charge replicable healthcare system that ensures free and quality healthcare service delivery is accessible across Pakistan. Today, with your participation in this event, you have initiated your contribution towards the cause that will inshallah will go a long way in helping Indus serve the most underserved communities across Pakistan."
Mr. Abdul Karim Paracha, Chairman, Board of Directors, IHHN, acknowledged respected golfers, Fast Cables – the title sponsor, and other partners for showing their support for the cause of IHHN.
The distinguished players competed in the Stableford Format. The Winner of the Golf Match in category 1 was Air Marshall Asim Zaheer. The winner of category 2 was Maheen Shafqat.
The Runner-up in category 1 was Maisam Naqvi. The Runner-up of category 2 was Mae Jee Ju.
The Second Runner-up in category 1 was Asif Kiani. The Second Runner-up of category 2 was Major General (r) Shahid Maqbool.