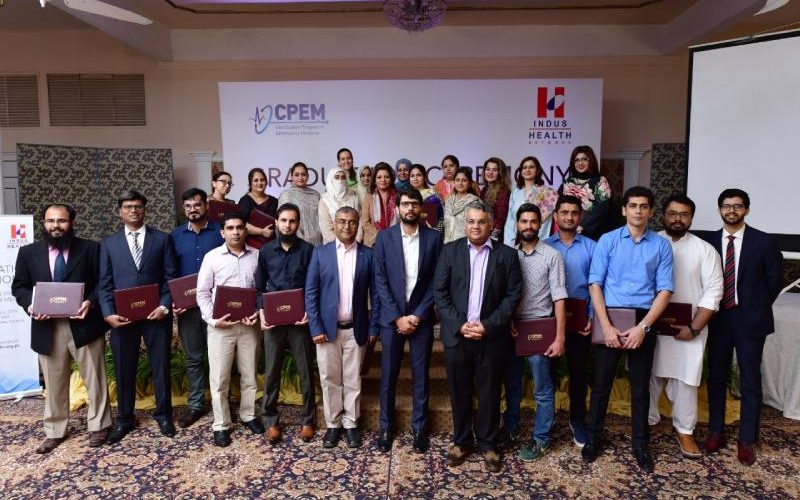 In Pakistan, emergency medicine (EM) is still a developing medical specialty despite emergency conditions, like acute cardiovascular disease, trauma, and stroke, dominating the 10 leading causes of mortality in the country. Pakistan has only a handful of trained EM specialists, and only nine institutes officially recognized to provide residency training in EM. This shortage of trained EM specialists will take more than a generation to fulfil. Indus Health Network launched the Certification Program in Emergency Medicine (CPEM) in July 2018 as an intermediate solution through a one-year training module in emergency medical knowledge and skills.
CPEM is an innovative program conducted at the Indus Hospital, Karachi, that offers didactic and practical learning, supervised by local and international faculty. Educational innovations include point-of-care ultrasound practice, flipped classroom sessions, practical workshops, weekly case-based discussions over a messaging application, and use of low-cost improvised models to hone procedural skills.
Twelve EM specialists were recruited from Canada, USA, UK, Australia, Saudi Arabia and Malawi, each spending one month in Karachi teaching a curriculum that was developed keeping in line with national and international EM priorities and recommendations.
The first batch of trainees comprised of doctors from six of Karachi's largest emergency departments (EDs), and training started in July 2018. The first batch of 27 doctors completed the rigorous training and examination process in June 2019. A graduation ceremony was held in Karachi on July 6, 2019, which was attended by emergency medicine specialists and leadership of partnering institutions across Karachi. Guest speeches were given by EM Chair for AKUH, Dr Asad Mian, who spoke on the importance of innovation in EM in resource-constrained settings and how transformative it is. The other guest speaker was the ED Director from NICVD Dr Munawar Khursheed, who talked about the impact training has on the quality of care provided in EM.
Dr Lubna Samad, a program director at the Indus Health Network and one of the individuals behind CPEM, detailed the program's emergence and spoke about how this event "was the end of training for the graduates, but the start of an acute care and emergency medicine momentum that is much needed across Pakistan."
This program was supported by the Habib Bank Foundation and Harvard Medical School's Center for Global Health Delivery, Dubai.
The next cycle of training has already started, and it is expected that these young graduates will have a positive impact on emergency care provision to the people of Karachi. This effort will be expanded in the coming years to improve emergency care across the country.