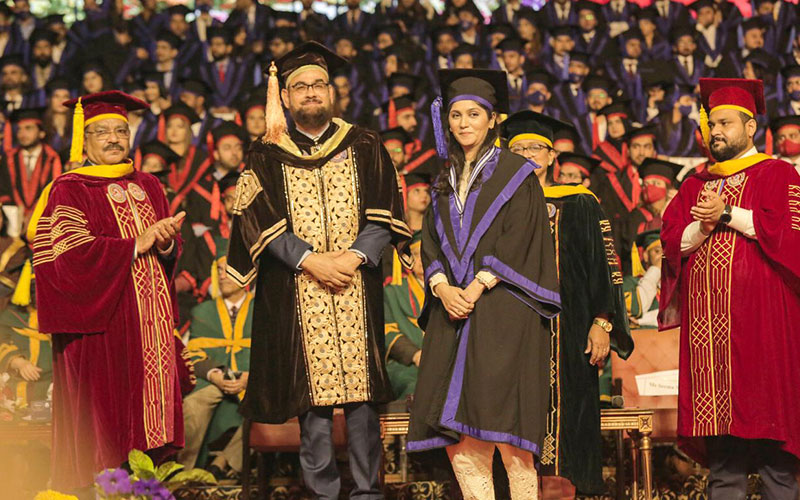 The Indus Hospital & Health Network (IHHN) proudly announces that Dr. Abdul Bari Khan, Chief Executive Officer, IHHN has been awarded an honorary Doctorate Degree from the Greenwich University, Pakistan on February 19, 2022. The 'Degree of Doctor of Humane (Honoris Causa)' was presented to him for his untiring and endless services to humanity.
A ceremony was marked for the presentation of degrees and diplomas to the graduates of the University held in Karachi on February 19, 2022. The ceremony was presided over by the Vice Chancellor of the Greenwich University.
A citation was read on Dr. Bari's accomplishments and subsequently the Vice Chancellor proclaimed him as Doctor of Humane and conferred on him the honorary degree.
Dr. Abdul Bari Khan earned this degree for his efforts for reforming and improving healthcare sector in Pakistan. He is a leading the most unique healthcare network – Indus Hospital & Health Network and has made a significant contribution to the public health system in Pakistan.
IHHN is honored to be the recipient of this esteemed institute's accolade, which has stood firm as a hub for academic excellence. Its praiseworthy efforts in investing in the future of Pakistan's youth have allowed the University to rightly claim its place amongst the top ten business universities in the country.
Dr. Abdul Bari Khan spoke in great detail of how much this honor meant to him and is proud to join the ranks of others who had been offered this illustrious distinction before him. He warmly accepted the degree, speaking of how Greenwich University held a special place in his heart.
Accolades received over the years
Dr. Bari's list of achievements grows with each passing day, as the Government of Pakistan and multiple organizations acknowledge Indus' influence in reshaping Pakistan's healthcare sector. He has received numerous prestigious awards for his philanthropic services.
He is the recipient of the second-highest civilian award in the country, the Hilal-e-Imtiaz, for his outstanding contribution and selfless service in changing the paradigm of the provision of quality healthcare across Pakistan. Dr. Arif Alvi, President of the Islamic Republic of Pakistan, presented it to him.
In commemoration of Pakistan day on March 23, 2015, Dr. Bari was awarded the Tamgha-e-Imtiaz, the third highest civilian award of Pakistan. It was bestowed upon Dr. Bari for performing extraordinary services to the people of Pakistan.
Dr. Bari received an Appreciation Award at the 'Karachi Tum Say Hay' event in December 2019, which recognized his commitments towards providing outstanding services in different walks of life for the city of Karachi. In addition, he received a Lifetime Achievement Award from the Management Association of Pakistan at its 34th Corporate Excellence Awards.
Hamdard University honored Dr. Bari with its Mohar-e-Nabaowat shield.