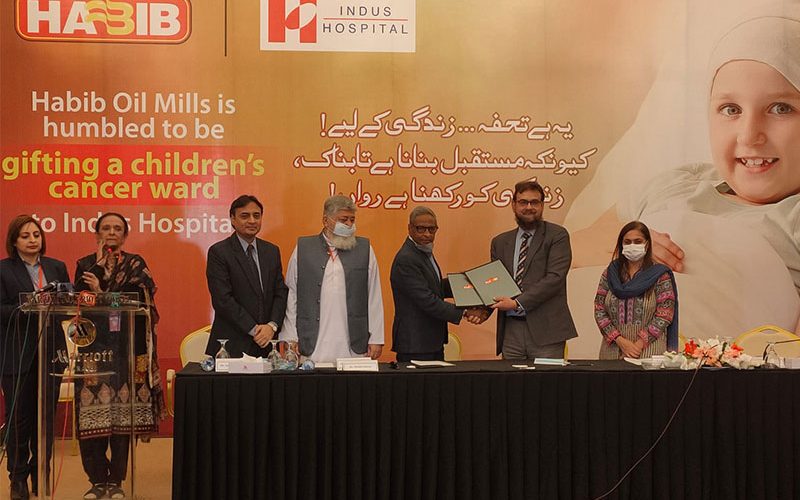 Habib Oil Mills generously donated PKR 15 million for a 6-bed ward bay in the Pediatric Cancer Unit for the new hospital building under construction at Korangi, Karachi. The cheque was presented to Dr. Abdul Bari Khan, CEO, Indus Hospital & Health Network by Mr. Moeed ul Hassan, MD, Habib Oil Mills during an event organized by Habib Oil Mills.
Thanking HOM for its generosity, Dr. Bari said, "We believe that only through collaboration and synergizing our efforts can we complete the new hospital in time so that we can serve millions of more patients."
Mr. Moeed ul Hassan while appreciating the efforts of Indus Hospital & Health Network said, "It is a happy moment for us at HOM to be a part of Indus and hopefully many children will be treated and bring joy to their families."
The childhood cancer ward will be in memory of HOM's Ex-Managing Director, (Late) Mr. Tanveer ul Hassan. In line with its Corporate Social Responsibility philosophy, HOM has always championed IHHN's mission for making free and quality healthcare available and accessible to all Pakistanis. Mr. Moeed ul Hassan is also part of IHHN's Corporate Ambassador Program and under his leadership, HOM is playing a significant role in helping IHHN grow.
IHHN is building Pakistan's largest free-of-cost, private hospital at Korangi, Karachi. The grey structure of the hospital is complete. We now need the support of esteemed corporates such as Habib Oil Mills to help us bring this hospital to life.