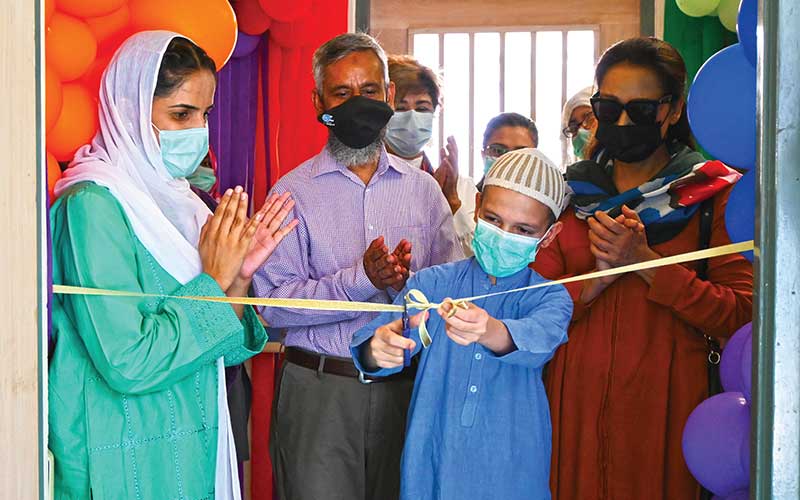 KARACHI: A flurry of red, blue, orange, and yellow greets one when they walk into the Pediatric Complex of The Indus Hospital (TIH), Korangi Campus. This was the scene of the Eid Bazaar. 'Khushiyon Ka Eid Bazaar' has been organized by the Psychosocial Team for pediatric patients.
"Distribution of Eid clothes had been a tradition of the then Children Cancer Hospital, even after the merger of the hospital with TIH, the tradition carried on. Dr. Shamvil Ashraf, Executive Director, Medical Services, TIH initiated it. He believed that no child should be should be deprived of Eid accessories," says Nafisa Dawood, head of the Psychosocial Team at TIH.
"This year, instead of distributing clothes we came up with the idea of a bazaar where children would come and pick up things they like."
Rows and rows of stalls full of sparkly bangles, colorful clothes, shoes, toys, and other items line the play area of the Pediatric Complex which resembles a shopping mall at the time of Eid.
Nafisa recalls a story of a mother who started crying when the Psychosocial Team asked her to choose items from the rack of clothes for her child. "She kept thanking and said this was the first time that she had a chance to buy something for her child."
Giving a true shopping experience to the children, patients could be seen walking up and down the halls holding shopping bags full of goodies they picked from the stalls absolutely free. The joy and excitement was visible through their glowing faces and giggles. A tiny four-year-old girl was seen waving her hands and clapping them after her mother made her wear shiny and colorful bangles.
"Nawal had the best time shopping at the Eid Bazaar," says Tahira, Nawal's mother while holding up a pink dress and bangles for her 12-year-old. "She is looking forward to Eid when she would get dressed and meet her siblings," she added.
Ten-month-old Ali Jaan's mother, Bibi Shakra could not contain her happiness when she went shopping at the Eid Bazaar. "We got clothes, shoes, toys, and a bag full of edibles for my son."
"During the lockdown, when a lot of people are threatened with unemployment and resultant poverty, this bazaar has given them a chance to enjoy the most important religious festival with all enthusiasm," adds Shabnam Muneer, Health Coordinator atTIH.
The five-day event has seen more than 800 pediatric patients who are under treatment. Corporate, individual donors and school children have donated all the items