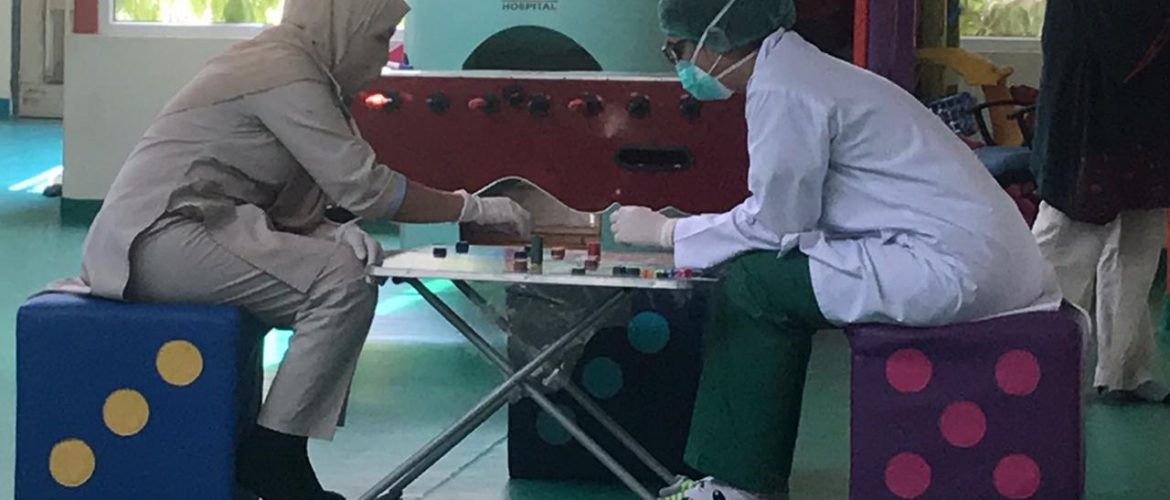 Patients look towards doctors and others healthcare professionals for help during diseases. Most of the time, they get healthy but they share their burden and sometimes diseases too with those messiahs. This physical and mental stress results in burnout and depression, and sometime catching the disease itself.
The Indus Hospital (TIH) values its healthcare professionals and takes every necessary step for their professional and personal well-being and growth. The current pandemic has put unparalleled stress on the healthcare community. Long working hours, high mortality, fear of getting the virus and to transfer it to their loved ones, and being the focus of attention is causing a lot of mental and physical stress.
The Psycho-social Department of the Indus Hospital recently planned some therapeutic activities for the healthcare professionals. They have setup a dedicated area 'Worry-Free Zone' for the healthcare professionals to de-stress themselves by getting involved in therapeutic recreational activities. These activities include, indoor games, board games, art activities and chat & relax corner. The psycho-social counselors are also available to conduct one on one counseling sessions for the staff to help minimize stress and remain steadfast with their work and performance.
The Indus Hospital ensures the safety and well-being of all of its staff that is working tirelessly to fight the global pandemic and other life threatening diseases. To ensure social distancing is maintained and infection control protocols are strictly adhered, the Worry Free Zone can be accessed by five staff members at one time only.