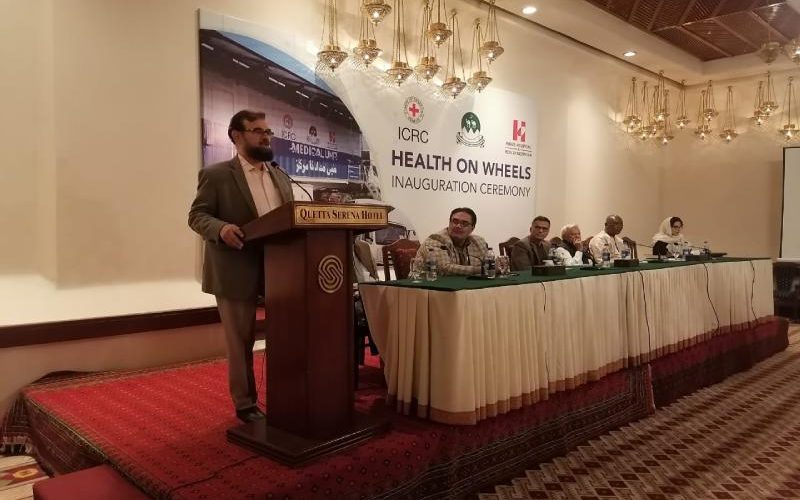 Pakistan's first-ever 'Health-on-Wheels' model was initiated in Balochistan, by Indus Hospital and Health Network (IHHN) in partnership with the Government of Balochistan, and the International Committee of Red Cross (ICRC), here on Friday.This facility will provide the best quality Primary Healthcare and Maternal healthcare services to the population of district Sohbatpur in Balochistan. Health-on-Wheels will compensate the health facilities that were damaged and affected during the recent flash floods in Pakistan. Three additional health-on-wheels will continue to work in other districts in the province including Naseerabad, Jhal Magsi, and Jaffarabad, which will be operationalized soon. The first district that will be benefitted is Sohbatpur, which was inaugurated by secretary health, Hafiz Tahir, earlier.
The main objective of launching such a service is the provision of all the healthcare services for the flood-affected population and inaccessible areas of the province.
Chief Secretary Balochistan, Abdul Aziz Uqaili along with Secretary Health Hafiz Muhammad Tahir, Chairman, IHHN, Mr. Abdul Karim Paracha, President, IHHN, Dr. Abdul Bari Khan, Director Vector Borne Diseases and Chairman Emergency Cell, Dr. Mir Yousuf, Executive Director, Community Health Directorate, Dr. Mah Talat and Health Coordinator, ICRC Pakistan, Dr. Ferdinand Dembele inaugurated the facility at a ceremony held at a local hotel in Quetta. He said that many people in the province are still living below the poverty line and it is very important to provide health facilities to these people. Public-private partnership is very important for providing medical facilities, and soon Gwadar Hospital will be run in collaboration with Indus Hospital and Health Network. The provincial government is considering running Jam Ghulam Qadir Hospital in Hub on the same model to provide the best medical services to the people.
The chief secretary while expressing his views, said that 'Providing the best health and education facilities to the people of Balochistan is one of the top priorities of the provincial government, and to improve these sectors, the provincial government is taking measures on an emergency basis and will soon provide medical facilities to the people of the entire province.'
Chairman, IHHN, Mr. Paracha said that, 'We are ready for all possible cooperation with the provincial government and the organization is providing mobile clinics and other health services'.
President, IHHN, Dr. Bari said that, 'the people of Balochistan will be supported at all levels in the field of medicine. We will continue to help the provincial government in every possible way'.
While inaugurating a health-on-wheels facility for flood-affected districts, Secretary Health Hafiz Tahir said that all the partner organizations, including Indus Hospital and Health Network (IHHN), played their best role in managing the current flood situation. He went on to note IHHN's key role in preventing malaria deaths in Balochistan's flood-affected districts through early initiations of its own Malaria Medical Camps, which control the spread of the disease and promptly deliver diagnostic and treatment services to the affected population.