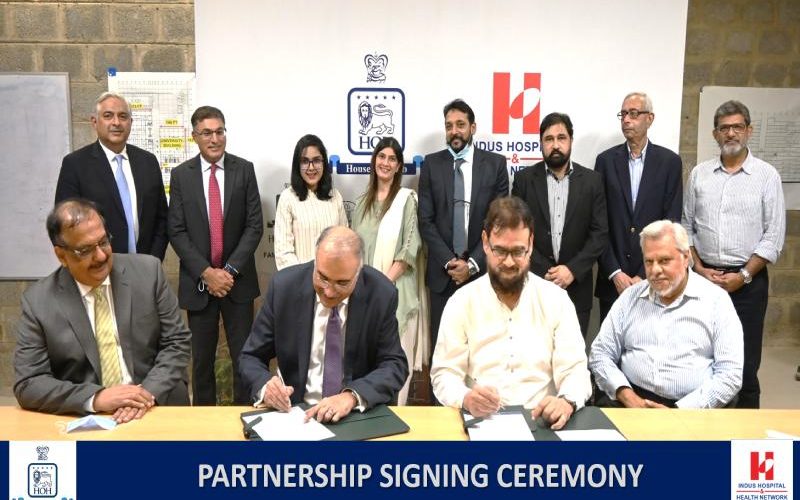 House of Habib, Pakistan's leading group of companies has a legacy of unmatched support in health and education in Pakistan. The Group donated for the construction of the Family Medicine & Community Health and Consulting Clinics at the new building project of the Indus Hospital & Health Network which will benefit the lives of more than 400,000 patients annually.
Speaking at the partnership signing ceremony Mr. Mohamedali R. Habib, Chairman House of Habib said, "Each year, House of Habib contributes towards institutions and events that are providing service in health and education. The work I have seen today is absolutely miraculous. I am proud of my team that they have worked with Indus on this national cause". Addressing Dr. Bari Mr. Habib acknowledged Dr. Bari as an inspiration for the whole country particularly for the youth of Pakistan. He also said that this is just the start and House of Habib and the family will continue to extend the cause of Indus. His views were greatly appreciated by Karim Paracha, Chairman Board of Directors, IHHN; Dr. Abdul Bari Khan, CEO, IHHN; Salim Razzak Tabani, Chairman Fundraising Committee of the BoD and other members of the IHHN leadershsip.
The Group was highly impressed that the grey structure has been completed of both the Hospital and the University and hope that people of Karachi and people of Pakistan will come forward to finish the project of this magnitude ahead of its stipulated timelines.
In attendance were Salman Burney, Vice Chairman (VC) – Building Products, Real Estate & Packaging, Tayyab Tareen, VC – Auto Engineering, Corporate Finance, Business Development & Strategy, Naila Kassim, Group Director, Human Resource, Tariq Khan, Group Director, Technical, Ali Jamali, CEO, Indus Motor Company and Mohsin Nathani, CEO, Habib Metro Bank. From IHHN: Mr. Abdul Karim Paracha, Chairman Board of Directors; Mr. Salim Razzak Tabani, Chairman Fundraising Committee of BoD IHHN; Dr. Shamvil Ashraf, Medical Director, IHHN; Syed, Mashhood Rizvi, Executive Director, Communication & Resource Development Directorate; Mr Shahab Akhtar, Project Director; Dr Ashar Alam, Medical Director, Indus Hospital, Korangi Campus.