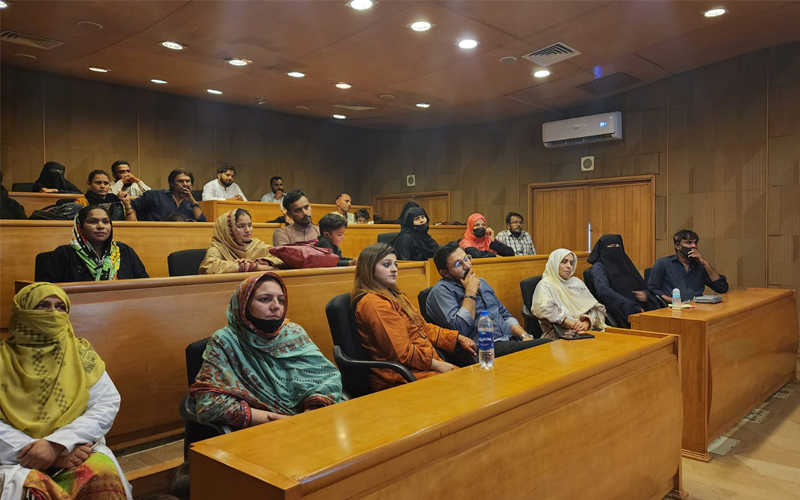 Hosted by Indus Hospital & Health Network's (IHHN) Cochlear Implant Program, Ehsaas Ka Safar 2.0 recently held its second session, "How to discipline a stubborn child," on October 31, 2022. The session focused on the daily struggles of parents in disciplining their children.
Led by Ms. Humaira Kaleem, Psychologist, IHHN, the session began with the eight aspects of a Child's (18 months to 3 years) nature, which include the habit of revealing their existence, free practice & independent opinion, child's talent, stubbornness, Imagination & Creativity, Habit of Observation, Volatility & Interactivity, and Holistic Identity & Distinctive Personality.
This was followed by a discussion on the types of disciplinary actions needed for children and the signs of a stubborn child, which include refusing to comply, impatience, making their own rules, and stubborn arguing. Parents shared their behavior management strategies when faced with these behaviors and were given further counseling.
Five Effective behavior management strategies were also shared with participants to guide their and their children's behavior at home. The following strategies were thoroughly discussed and explained with examples:
Identify the trigger
Ignore the behavior
Remove the child from the problematic situation
Help the child calm down
Look for opportunities for positive interaction
The session concluded with a discussion on the necessity of teamwork in carrying out disciplinary actions. Both parents must be on the same page regarding how to raise their children and adhere to the same rules when disciplining them.
While working with patients from various socio-economic backgrounds, the Cochlear Implant Program at IHHN discovered a need for a Parental Training Workshop Series, as parents must work with their children at home to ensure their ongoing development. To meet this need, the program started Ehsaas Ka Safar 2.0, a monthly series of training workshops to teach parents effective management techniques. The series is sponsored by Oriental Sales Cooperation.